Design, docking, synthesis and anticancer activity of some novel 2-(4-methylbenzenesulphonamido)pentanedioic acid amide derivatives
Satyajit Dutta

Department of Pharmaceutical Chemistry, IIMT College of Medical Sciences, Meerut 250001, Uttar Pradesh

Deepak Kumar

Department of Pharmaceutical Chemistry, IIMT College of Medical Sciences, Meerut 250001, Uttar Pradesh

Anand Kumar Mishra

Department of Pharmaceutical Chemistry, IIMT College of Medical Sciences, Meerut 250001, Uttar Pradesh

Supratim Ray

Department of Pharmaceutical Sciences, Assam University, Silchar 788011, Assam

K. Nagarajan

Department of Pharmaceutical Chemistry, KIET School of Pharmacy, Muradnagar, Ghaziabad 201206, Uttar Pradesh
Keywords:
Glutamic acid (2-amino pentanedioic acid), Docking, Anticancer, Ehrlich ascites carcinoma.
Abstract
In the present work few novel 2-(4-methylbenzenesulphonamido)pentanedioic acid amide derivatives and the basic compound 2-(4-methylphenylsulfon-amido)pentanedioic acid have been designed, synthesized, characterized and screened for their possible antineoplastic activity both in vitro and in vivo. The modified drugs were docked against the protein histone deacetylase the energy value obtained was o-iodoanilide (-10.370504) and m-iodoanilide (-10.218276) of the titled compound. The in vitro activity was performed against five human cell lines like human breast cancer (MCF-7), leukemia (K-562), ova-rian cancer (OVACAR-3), human colon adenocarcinoma (HT-29) and Human kidney carcinoma (A-498). The in vivo activity was performed in female Swiss albino mice against Ehrlich Ascites Carcinoma (EAC). Among the synthesized compounds, o-iodoanilide, m-iodoanilide and p-iodoanilide derivatives of 2-(4-methyl benzene sulphonyl)-pentanedioic acid amides showed encouraging activity in both the in vitro and in vivo compared to other compounds.
Downloads
Download data is not yet available.
Abstract
2937
Download
842 Read
142
References
Baskaran C, Ramachandran M. Computational molecular docking studies on anticancer drugs. Asian Pac J Trop Dis. 2012; 2: S734-38.
David SW, Knox C, Guo AC, Shrivastava S, Hassanali M. Drug Bank: A comprehensive resource for in silico drug discovery and exploration. Nucleic Acids Res. 2006; 34: D668-72.
De AU, Pal D. Possible antineoplastic agents I. J Pharm Sci. 1975; 64: 262-66.
De AU, Pal D. Possible antineoplastic agents II. J Pharm Sci. 1977; 66: 232-35.
Debnath B, Srikanth K, Banerjee S, Jha T. 1,5-N,N´-Disubstituted-2-(substituted benzenesulphonyl)-glutamami-des as antitumor agents. Part 2. Synthesis, biological activity and QSAR study. Internet Electron J Mol Des. 2002; 1: 488-502.
Eidinoff ML. Pyrimidine studies: I. Effect of DON (6-Diazo-5-oxo-L-norleucine) on incorporation of precursors into nucleic acid pyrimidines. Cancer Res. 1958; 18: 105-09.
Ferlini C, Scambia G, Marone M, Distefano M, Gaggini C, Ferrandina G, Fattotossi A, Isola G, Benedetti Panici P, Mancuso S. Tamoxifen induces oxidative stress and apotosis in oestrogen receptor-negative human cancer cell line. Br J Cancer 1999; 79: 257-63.
Gelman EP. Tamoxifen for the treatment of malignancies other breast and endometrial carcinoma. Semin Oncol. 1997; Suppl 1.24: 165-70.
Graff S, Rittenberg D, Foster GL. The glutamic acid of malignant tumors. J Biol Chem. 1940; 133: 745-52.
Hartman SC. Metabolic Pathways. New York, Academic Press, 1970, pp 1-4.
Holbeck SL. Update on NCI in vitro drug screen utilities. Eur J Cancer 2004; 40: 785-93.
Keren R, Stark AA. Gamma-glutamyl transpeptidase-dependent mutagenicity and cytotoxicity of gamma-glutamyl derivatives: A model for biochemical targeting of chemo-therapeutic agents. Environ Mol Mutagen 1998; 32: 377-86.
Mosmann T. Rapid colorimetric assay for cellular growth and survival: Application to proliferation and cytotoxicity assays. J Immunol Methods 1983; 65: 55-63.
NCI PDQ Clinical trial Search Bethesda 1999 (USA: National Cancer Institute).
Petit GR. Biosynthetic products for cancer chemotherapy. Vol. 1, New York, Plenum Press, 1977, pp 158-62.
Ray S, De AU. Synthesis and biological activity of succinimido benzene sulfonyl oxopyrrolidine analogs as possible antineoplastic agent. Asian J Chem. 2009; 21: 379-87.
Rodwell VW. Metabolism of purine and pyrimidine nucleotides. 25th ed. Stamford, Connecticut, Appleton and Lange, 2000, pp 386-401.
Rosowsky A, Wick MM, Kin SH. Structural analogs of L-glutamic acid-(4-hydroxyanalide) and -(3,4-dihydroxyanalide) as potential agents against melanoma. J Med Chem. 1979; 22: 1034-37.
Srivastava V, Kumar A, Mishra BN, Siddiqi MI. Molecular docking studies on DMDP derivatives as human DHFR inhibitors. Bioinformation 2008; 4: 180-88.
Sugita Y. The effect of antineoplaston, a new antitumor agent on malignant brain tumors. Kurume Med J. 1995; 42: 133-40.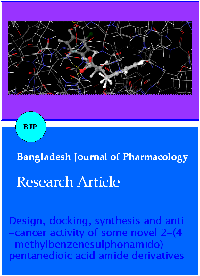 How to Cite
Dutta, S., D. Kumar, A. Mishra, S. Ray, and K. Nagarajan. "Design, Docking, Synthesis and Anticancer Activity of Some Novel 2-(4-Methylbenzenesulphonamido)pentanedioic Acid Amide Derivatives". Bangladesh Journal of Pharmacology, Vol. 9, no. 3, Aug. 2014, pp. 328-36, doi:10.3329/bjp.v9i3.19132.
Section
Research Articles
Copyright (c) 2014 Satyajit Dutta, Deepak Kumar, Anand Kumar Mishra, Supratim Ray, K. Nagarajan
This work is licensed under a Creative Commons Attribution 4.0 International License.
Authors who publish with this journal agree to the following terms:
Authors retain copyright and grant the journal right of first publication with the work simultaneously licensed under a

Creative Commons Attribution License

that allows others to share the work with an acknowledgement of the work's authorship and initial publication in this journal.
Authors are able to enter into separate, additional contractual arrangements for the non-exclusive distribution of the journal's published version of the work (e.g., post it to an institutional repository or publish it in a book), with an acknowledgement of its initial publication in this journal.
Authors are permitted and encouraged to post their work online (e.g., in institutional repositories or on their website) prior to and during the submission process, as it can lead to productive exchanges, as well as earlier and greater citation of published work (See

The Effect of Open Access

).