Hepatoprotective effect of Chenopodium murale in mice
Mohammad Saleem

College of Pharmacy, GC university Faisalabad

Bilal Ahmed

College of Pharmacy, GC university Faisalabad

Muhammad Imran Qadir

Institute of Molecular Biology & Biotechnology, Bahauddin Zakariya University, Multan

. Mahrukh

College of Pharmacy, GC university Faisalabad

Maria Rafiq

College of Pharmacy, GC university Faisalabad

Mobasher Ahmad

University College of Pharmacy, The University Of Punjab, Lahore

Bashir Ahmad

Faculity of Pharmacy, The University of Lahore
Keywords:
Chenopodium murale, Hepatoprotective, Paracetamol
Abstract
Discovery of drugs has its roots in medicinal plants that appeal researchers to identify new therapeutical entities from plants. The current study was conducted to determine its hepatoprotective activity. The results showed that aqueous methanolic extract of Chenopodium murale (200 and 500 mg/kg) produced significant (p<0.001) decrease in paracetamol induced increased levels of liver enzymes (alanin transaminase, aspartate transaminase, alkaline phosphatase) and total bilirubin. These findings were further supported by histopathological investigations by microscope and detection of phytoconstituents having hepatoprotective potential e.g. qurecetin, kaempferol and gallic acid by HPLC. Conclusively aqueous methanolic extract of C. murale possess hepatoprotective activity against paracetamol induced liver damage in mice.
Downloads
Download data is not yet available.
Abstract
4750
Download
1685 Read
190
References
Abbas M, Rana S, Shahid M, Rana N, Mahmood-ul-Hassan M, Hussain M. Chemical evaluation of weed seeds mixed with wheat grains at harvest. J Animal Plant Sci. 2012; 22: 283-88.
Adewusi E, Afolayan A. A review of natural products with hepatoprotective activity. J Medicinal Plants Res. 2010; 4: 1318-34.
Ahmad B, Jan Q, Bashir S, Choudhary MI, Nisar M. Phytochemical evaluation of Chenopodium murale Linn. Asian J Plant Sci. 2003; 3: 1072-78.
Akhtar MS, Asjad HMM, Bashir S, Malik A, Khalid R, Gulzar F, Irshad N. Evaluation of antioxidant and hepatoprotective effects of Khamira Gaozaban Ambri Jadwar Ood Saleeb Wala (KGA). Bangladesh J Pharmacol. 2013; 8: 44-48.
Ali M, Qadir MI, Saleem M, Janbaz KH, Gul H, Hussain L, Ahmad B. Hepatoprotective potential of Convolvulus arvensis against paracetamol-induced hepatotoxicity. Bangladesh J Pharmacol. 2013; 8: 300-04.
Ali M, Qadir MI, Saleem M, Janbaz KH, Gul H, Hussain L, Ahmad B. Hepatoprotective potential of Convolvulus arven-sis against paracetamol-induced hepatotoxicity. Bangladesh J Pharmacol. 2013; 8: 300-04.
Ali N, Jülich W-D, Kusnick C, Lindequist U. Screening of Yemeni medicinal plants for antibacterial and cytotoxic activities. J Ethnopharmacol. 2001; 74: 173-79.
Bag AK, Mumtaz SMF. Hepatoprotective and nephroprotective activity of hydroalcoholic extract OfIpomoea staphylina leaves. Bangladesh J Pharmacol. 2013; 8: 263-68.
Balamurugan G, Muthusamy P. Observation of the hepatoprotective and antioxidant activities of Trianthema decandra Linn. (Vallai sharunnai) roots on carbon tetrachloride-treated rats. Bangladesh J Pharmacol. 2008; 3: 83-89.
El-Khatib AA, Hegazy AK, Galal HK. Does allelopathy have a role in the ecology of Chenopodium murale? Ann Bot Fennici. 2004; 41: 37-45.
Gnanadesigan M, Ravikumar S, Inbaneson SJ. Hepatopro-tective and antioxidant properties of marine halophyte Luminetzera racemosa bark extract in CCL4-induced hepatotoxicity. Asian Pac J Trop Med. 2011; 4: 462-465
Gohara AA, ElmazarM. Isolation of hypotensive flavonoids from Chenopodium species growing in Egypt. Phytother Res. 1997; 11: 564-67.
Hegde K, Joshi AB. Hepatoprotective and antioxidant effect of Carissa spinarum root extract against CCl4 and paracetamol-induced hepatic damage in rats. Bangladesh J Pharmacol. 2010; 5: 73-76.
Ibrahim L, Kawashty S, Baiuomy AR, Shabana M, El-Eraky W, El-Negoumy S. A comparative study of the flavonoids and some biological activities of two Chenopodium species. Chem Nat Compd. 2007; 43: 24-28.
Jadon A, Bhadauria M, Shukla S. Protective effect of Terminalia belerica Roxb and gallic acid against carbon tetrachloride-induced damage in albino rats. J Ethnopharmacol. 2007; 109: 214-18.
Janbaz K, Saeed S, Gilani A. Studies on the protective effects of caffeic acid and quercetin on chemical-induced hepatotoxicity in rodents. Phytomedicine 2004: 11: 424-30.
Javaid A, Amin M. Antifungal activity of methanol and n-hexane extracts of three Chenopodium species against Macrophomina phaseolina. Nat Prod Res. 2009; 23, 1120-27.
Khanna-Chopra R, Sabarinath S. Heat-stable chloroplastic Cu/Zn superoxide dismutase in Chenopodium murale. Biochem Biophys Res Commun. 2004; 320: 1187-92.
Khan AZ, Mohammad A, Iqbal Z, Anis I, Shah MR, Nadeem S, Rabnawaz M, Shahidullah A, Khan H, Khan I. Molecular docking of viscosine as a new lipoxygenase inhibitor isolated from Dodonaea viscose. Bangladesh J Pharmacol. 2013; 8: 36-39.
Kim KA, Lee JS, Park HJ, Kim JW, Kim CJ, Shim IS et al. Inhibition of cytochrome P450 activities by oleanolic acid and ursolic acid in human liver microsomes. Life Sci. 2004; 74: 2769-79.
Kumar B, Lakshman K, Swamy V, Kumar P, Shekar D, Manoj B, Vishwantha G. Hepatoprotective and antioxidant activities of Amaranthus viridis Linn. Macedonian J Med Sci. 2011; 4: 125-130
Mitić N, Dmitrović S, Djordjević M, Zdravković-Korać S, Nikolić R, Raspor M, Krstić-Milošević D. Use of Chenopodium murale L. transgenic hairy root in vitro culture system as a new tool for allelopathic assays. J Plant Physiol. 2012; 169: 1203-11.
Pal A, Banerjee B, Banerjee T, Masih M, Pal K. Hepatoprotective activity of Chenopodium album Linn. plant against paracetamol induced hepatic injury in rats. Int J Pharm Pharm Sci. 2011; 3: 55-57.
Panda S, Jafri M, Kar A, Meheta B.. Thyroid inhibitory, antiperoxidative and hypoglycemic effects of stigmasterol isolated from Butea monosperma. Fitoterapia 2009; 80: 123-26.
Patra A, Jha S, Murthy PN. Phytochemical and pharmacological potential of Hygrophila spinosa T. anders. Pharmacogn Rev. 2009; 3: 330-41.
Ramachandra SS, Quereshi AA, Viswanath SA, Patil T, Prakash T, Prabhu K, Veeran GA. Hepatoprotective activity of Calotropis procera flowers against paracetamol-induced hepatic injury in rats. Fitoterapia 2007; 78: 451-54.
Rashed KN, Chang CW, Wu LY, Peng WH. Hepatoprotective activity of Diospyros lotus fruits on acute liver injury induced by carbon tetrachloride and phytochemical analysis. Topcls J Herb Med. 2013;2: 75-83.
Ravikumar S, Gnanadesigan M. Hepatoprotective and antioxidant properties of Rhizophora mucronata Mangrove Plant in CCl4 Intoxicated Rats. J Exp Clin Med. 2012; 4: 66-72.
Rehman JU, Saqib NU, Akhtar N, Jamshaid M, Asif HM, Sultana S, Rehman RU. Hepatoprotective activity of aqueous-methanolic extract of Suaeda fruticosa in paracetamol-induced hepatotoxicity in rabbits. Bangladesh J Pharmacol. 2013; 8: 378-81.
Saboo SS, Tapadiya G, Farooqui IA, Khadabadi SS. Free radical scavenging, in vivo antioxidant and hepatoprotective activity of folk medicine Trichodesma sedgwickianum. Bangladesh J Pharmacol. 2013; 8: 58-64.
Sadeque MZ, Begum ZA. Protective effect of dried fruits of Carica papaya on hepatotoxicity in rat. Bangladesh J Pharmacol. 2010; 5: 48-50.
Samuel AJSJ, Mohan S, Chellappan DK, Kalusalingam A, Ariamuthu S. Hibiscus vitifolius (Linn.) root extracts shows potent protective action against anti-tubercular drug induced hepatotoxicity. J Ethnopharmacol. 2012; 141: 396-402.
Sultana B, Anwar F, Rafique AM, Chatha SAH. Antioxidant potential of extracts from different agro wastes: Stabilization of corn oil. Grasas Y Aceites. 2008; 59: 205-17.
Thakare SP, Jain HN, Patil SD, Upadhyay UM. Hepatoprotective effect of Cocculus hirsutus on bile duct ligation-induced liver fibrosis in albino Wistar rats. Bangladesh J Pharmacol. 2009; 4: 126-30.
Vijay N, Padmaa M. Hepatoprotective activity of Chenopodium album Linn. against paracetamol induced liver damage. Pharmacol Online. 2011; 3: 312-28.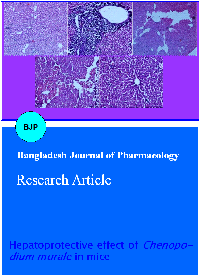 How to Cite
Saleem, M., B. Ahmed, M. Qadir, . Mahrukh, M. Rafiq, M. Ahmad, and B. Ahmad. "Hepatoprotective Effect of Chenopodium Murale in Mice". Bangladesh Journal of Pharmacology, Vol. 9, no. 1, Mar. 2014, pp. 124-8, doi:10.3329/bjp.v9i1.17785.
Section
Research Articles
Copyright (c) 2014 Mohammad Saleem, Bilal Ahmed, Muhammad Imran Qadir, Mahrukh, Maria Rafiq, Mobasher Ahmad, Bashir Ahmad
This work is licensed under a Creative Commons Attribution 4.0 International License.
Authors who publish with this journal agree to the following terms:
Authors retain copyright and grant the journal right of first publication with the work simultaneously licensed under a

Creative Commons Attribution License

that allows others to share the work with an acknowledgement of the work's authorship and initial publication in this journal.
Authors are able to enter into separate, additional contractual arrangements for the non-exclusive distribution of the journal's published version of the work (e.g., post it to an institutional repository or publish it in a book), with an acknowledgement of its initial publication in this journal.
Authors are permitted and encouraged to post their work online (e.g., in institutional repositories or on their website) prior to and during the submission process, as it can lead to productive exchanges, as well as earlier and greater citation of published work (See

The Effect of Open Access

).