Hepatoprotective effect of leaves of aqueous ethanol extract of Cestrum nocturnum against paracetamol-induced hepatotoxicity
Keywords:
Cestrum nocturnum, Hepatoprotective, Paracetamol, Silymarin
Abstract
The hepatoprotective activities of Cestrum nocturnum (Queen of Night) was evaluated against the paracetamol induced hepatotoxicity in the mice. Aqueous ethanol (30:70) extract of plant was obtained by maceration. Results showed that aqueous ethanol extract of C. nocturnum (250 mg/kg and 500 mg/kg) produced significant (p<0.05) hepatoprotective activities against paracetamol induced liver injury in Swiss albino mice. Histopathalogical studied of liver further supported the hepatoprotective effects of C. notrunum. Phytochemical screening showed the presence of alkaloids, flavonoids, saponins, terpenes, phenolic compounds, carbohydrates and volatile oils. Most of the flavonoids have hepatoprotective activity. Therefore, the hepatoprotective activity of C. nocturnum may be due to the presence of flavonoids and phenolic components. It was concluded from the present study that aqueous ethanol extract of leaves of C. nocturnum has hepatoprotective activity against the paracetamol-induced hepatotoxicity in albino mice.
Downloads
Download data is not yet available.
Abstract
3003
Download
1831 Read
304
References
Akhtar MS, Asjad HMM, Bashir S, Malik A, Khalid R, Gulzar F, Irshad N. Evaluation of anti-oxidant and hepatoprotective effects of Khamira Gaozaban Ambri Jadwar Ood Saleeb Wala (KGA). Bangladesh J Pharmacol. 2013; 8: 44-48.
Ali M, Qadir MI, Saleem M, Janbaz KH, Gul H, Hussain L, Ahmed B. Hepatoprotective potential of Convolvulus arvensis against paracetamol-induced hepatotoxicity. Bangladesh J Pharmacol. 2013; 8: 300-04.
Ali M, Ramachandram R, Rafiullah MRM, Singh O, Siddiqui AW, Mir SR. Prevention of carbon tetrachloride-induced hepatotoxicity by the ethanol extract of Capparis moonii fruits in rats. Pharma Bio. 2004; 42: 286-88.
Al-Reza SM, Rahman A, Cho YS, Kang SC. Chemical composition and anti-oxidant activity of essential oil and organic extracts of Cestrum nocturnum L. J Essent Oil Bearing Plants. 2010; 13: 615-24.
Bag AK, Mumtaz SMF. Hepatoprotective and nephroprotective activity of hydroalcoholic extract OfIpomoea staphylina leaves. Bangladesh J Pharmacol. 2013; 8: 263-68.
Balamurugan G, Muthusamy P. Observation of the hepatoprotective and anti-oxidant activities of Trianthema decandra Linn. (Vallai sharunnai) roots on carbon tetrachloride-treated rats. Bangladesh J Pharmacol. 2008; 3: 83-89.
Farhan H, Rammal H, Hijazi A, Badran B. Preliminary phytochemical screening and extraction of polyphenol from stems and leaves of a Lebanese plant Malva parviflora L. Int J Curr Pharm Res. 2012; 4: 55-59.
Hegde K, Joshi AB. Hepatoprotective and anti-oxidant effect of Carissa spinarum root extract against CCl4 and paracetamol-induced hepatic damage in rats. Bangladesh J Pharmacol. 2010; 5: 73-76.
Khan MA, Inayat H, Khan H, Saeed M, Khan I, Rahman I. Antimicrobial activities of the whole plant of Cestrum nocturnum against pathogenic microorganisms. Afr J Microbiol Res. 2011; 5: 612-16.
Khan YH, Mallhi TH, Sarriff A, Khan AH. Osteoporosis: Are healthcare professionals missing an opportunity. Springer Plus. 2013; 2: 1–5.
Mazumder A, Bhatt A, Bonde VA, Shaikh A, Mazumder R. Evaluation of Cestrum Nocturnum for its anti-inflammatory and analgesic potentiality. J Herbal Med Toxicol. 2010; 4: 113-17.
Perez SH, Buznego MT. Behavioral and antiepileptic effects of acute administration of the extract of the plant Cestrum nocturnum Lin lady of the night. Epilepsy Behavior. 2008; 12: 366-72.
Prasad MP, Apoorva P, Thakur MS, Ruparel YM. Phytochemical screening, anti-oxidant potential and antimicrobial activities in three species of Cestrum plants. Int J Pharma Bio Sci. 2013; 4: 673-78.
Raja S, Ahamed KFH, Kumar V. Anti-oxidant effect of Cytisus scoparius against carbon tetrachloride treated liver injury in rats. J Ethnopharmacol. 2006; 109: 41-47.
Sabir MS, Rocha TBJ. Water-extractable phytochemicals from Phyllanthus niruri exhibit distinct in vitro anti-oxidant and in vivo hepatoprotective activity against paracetamol-induced liver damage in mice. Food Chem. 2008; 111: 845-51.
Saboo SS, Tapadiya G, Farooqui IA, Khadabadi SS. Free radical scavenging, in vivo anti-oxidant and hepatoprotective activity of folk medicine Trichodesma sedgwickianum. Bangladesh J Pharmacol. 2013; 8: 58-64.
Sadeque MZ, Begum ZA. Protective effect of dried fruits of Carica papaya on hepatotoxicity in rat. Bangladesh J Pharmacol. 2010; 5: 48-50.
Savchenko T, Whiting P, Germade A, Dinan L. Ecdysteroid agonist and antagonist activities in the species of Solanaceae. Biochem System Ecol. 2000; 28: 403-19.
Subramonium A, Pushpangadan P. Development of phytomedicines for liver diseases. Indian J Pharmacol. 1999; 31: 166-75.
Thakare SP, Jain HN, Patil SD, Upadhyay UM. Hepatoprotective effect of Cocculus hirsutus on bile duct ligation-induced liver fibrosis in albino Wistar rats. Bangladesh J Pharmacol. 2009; 4: 126-30.
Zeng J, Huang XH, Lai F. Study of local anesthetic effect of Cestrum nocturnum water extract. Gannan Yixueyuan Xuebao. 2002; 23: 1-3.
Zeng J, Li FZ, Ye HY. Study of the inhibitory effect of Cestrum nocturnum, L. n-butlalcohol extract on central nerve system. Gannan Yixueyuan Xuebao. 2003; 23: 237-39.
Zhong ZG, Zhao SY. Experimental studies on antitumour effect of the extract of Cestrum nocturnum invivo. Zhong Yao Cai. 2008; 31: 1709-12.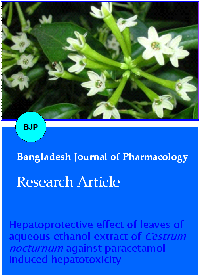 How to Cite
Qadir, M. I., M. S. A. Murad, M. Ali, M. Saleem, and A. A. Farooqi. "Hepatoprotective Effect of Leaves of Aqueous Ethanol Extract of Cestrum Nocturnum Against Paracetamol-Induced Hepatotoxicity". Bangladesh Journal of Pharmacology, vol. 9, no. 2, Apr. 2014, pp. 167-70, doi:10.3329/bjp.v9i2.17770.
Section
Research Articles
License
Authors who publish with this journal agree to the following terms:
Authors retain copyright and grant the journal right of first publication with the work simultaneously licensed under a

Creative Commons Attribution License

that allows others to share the work with an acknowledgement of the work's authorship and initial publication in this journal.
Authors are able to enter into separate, additional contractual arrangements for the non-exclusive distribution of the journal's published version of the work (e.g., post it to an institutional repository or publish it in a book), with an acknowledgement of its initial publication in this journal.
Authors are permitted and encouraged to post their work online (e.g., in institutional repositories or on their website) prior to and during the submission process, as it can lead to productive exchanges, as well as earlier and greater citation of published work (See

The Effect of Open Access

).