Antimycotic potential of a diterpenoid taxoquinone against Candida species isolated from Metasequoia glyptostroboides
Keywords:
Metasequoia glyptostroboides, Taxoquinone, Candia
Abstract
The objective of this study was to confirm the antimycotic potential of a diterpenoid compound taxoquinone, isolated from Metasequoia glyptostroboides against pathogenic isolates of Candida species. The taxoquinone (100 mcg/disc) displayed potential anticandidal effect against Candia albicans KBN06P00076, KBN06P00074, C. glabrata KBN06P00066, KBN06P00068, C. tropicalis KBN06P00682, KBN06P00058, C. parapsilosis KBN06P00060, KBN06P00055, and C. guilliermondii KBN06P00492 and KBN06P00867 as a diameter of zones of inhibition, found in the range of 10 ± 0.6 to 13 ± 1.1 mm. The minimum inhibitory and minimum fungicidal concentrations of taxoquinone against the tested clinical isolates were found in the range of 125 to 500 and 125 to 1,000 mcg/mL, respectively. On the viable counts of the tested fungal isolates, the taxoquinone evoked a remarkable anticandidal effect. Elaborative study of SEM revealed potential detrimental effect of taxoquinone on the morphology of C. parapsilosis KBN06P00060 at MIC concentration. These findings confirmed therapeutic potential of taxoquinone.
Downloads
Download data is not yet available.
Abstract
1499
Download
627 Read
155
References
Baily GG, Perry FM, Denning DW, Mandal BK. Fluconazole-resistant candidiasis in an HIV cohort. AIDS. 1994; 8: 787-92.
Bajpai VK, Al-Reza SM, Choi UK, Lee JH, Kang SC. Chemical composition, antibacterial and antioxidant activities of leaf essential oil and extracts of Metasequoia glyptostroboides Miki ex Hu. Food Chem Toxicol. 2009; 47: 1876-83.
Bajpai VK, Na MK, Kang SC. The role of bioactive substances in controlling foodborne pathogens derived from Metasequoia glyptostroboides Miki ex Hu. Food Chem Toxicol. 2010; 48: 1945-49.
Chandrasekaran M, Venkatesalu V. Antibacterial and antifungal activity of Syzygium jambolanum seeds. J Ethnopharmacol. 2004; 91: 105-08.
Cowen LE, Anderson JB, Kohn LM. Evaluation of drug resistance in Candida albicans. Annu Rev Microbiol. 2002; 56: 139-65.
Demirci B, Toyota M, Demirci F, Dadandi MY, Can-Baser KH. Anticandidal pimaradiene diterpene from Phlomis essential oils. C R Chim. 2009; 12: 612-21.
Gallis, HA, Drew RH, Pickard WW. Amphotericin B: 30 years of clinical experience. Rev Infect Dis. 1990; 12: 308-29.
Ghannoum MA. Studies on the anticandidal mode of action of Allium sativum (Garlic). J Gen Microbiol. 1988; 134: 2917-24.
Hood S, Denning DW. Treatment of fungal infection in AIDS. J Antimicrob Chemother. 1996; 37: 71-85.
Inouye S, UchidaK, Takizawa, T, Yamaguchi H, Abe S. Evolution of the effect of terpenoid quinines on Trichophyton mentagrophytes by solution and vapor contact. J Infect Chemother. 2006; 12: 100-04.
Kockro RA, Hampl JA, Jansen B, Peters G, Scheihing M, Giacomelli R, et al. Use of scanning electron microscopy to investigate the prophylactic efficacy of rifampin-impregnated CSF shunt catheters. J Med Microbiol. 2000; 49: 441-50.
Langenbeck B. Auffingung von Pilzen aus der Schleimhaut der Speisero¨hre einer Typhus-Leiche. Neue Not Geb Natur-u-Heilk (Froriep) 1939; 12: 147.
Lyman CA, Walsh TJ, Systemically administered antifungal agents. A review of their clinical pharmacology and therapeutic applications. Drugs. 1992; 44: 9-35.
Murray PR, Baron EJ, Pfaller MA, Tenover FC, Yolke RH. Manual of clinical microbiology (6th ed), Washington, DC: ASM Press 1995.
Picman AK, Schneider EF, Gershenzon J. Antifungal activity of sunflower terpenoids. Biochem Syst Ecol. 1990; 18: 325-28.
Rao A, Zhang Y, Muend S, Rao R. Mechanism of antifungal activity of terpenoid phenols resembles calcium stress and inhibition of the TOR pathway. Antimicrob Agent Chemother. 2010; 54: 5062-69.
Sandven P. Epidemiology of candidemia. Revis Iberoamericana de Micol. 2000; 17: 73-81.
Sikkema J, de Bont JAM, Poolman B. Mechanisms of membrane toxicity of hydrocarbons. Microbiol Rev. 1995; 59: 201-22.
Truss CO. The role of Candida albicans in human illness. J Orthomol Psychiatry. 1981; 10: 228-38.
Wakabayashi H, Abe S, Okutomi T, Tansho S, Kawase K, Yamaguchi H. Cooperative anti-Candida effects of lactoferrin or its peptides in combination with azole antifungal agents. Microbiol Immunol. 1996; 40: 821-25.
Wang SL, Yen YH, Tzeng GC, Hsieh C. Production of antifungal materials by bioconversion of shellfish chitin wastes fermented by Pseudomonas fluorescens K-188. Enzyme Microb Technol. 2005; 36: 49-56.
Weete JD. Lipid biochemistry of fungi and other organisms. New York, Plenum Press, 1980.
Yin S, Su ZS, Yue JM. Antimicrobial diterpenes from Trigonostemon chinensis. J Nat Prod. 2008; 71: 1414-17.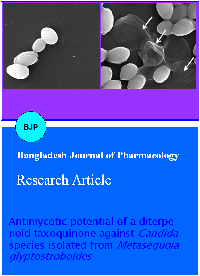 How to Cite
Bajpai, V. K., and S. C. Kang. "Antimycotic Potential of a Diterpenoid Taxoquinone Against Candida Species Isolated from Metasequoia Glyptostroboides". Bangladesh Journal of Pharmacology, vol. 9, no. 2, Mar. 2014, pp. 154-60, doi:10.3329/bjp.v9i2.17555.
Section
Research Articles
License
Authors who publish with this journal agree to the following terms:
Authors retain copyright and grant the journal right of first publication with the work simultaneously licensed under a

Creative Commons Attribution License

that allows others to share the work with an acknowledgement of the work's authorship and initial publication in this journal.
Authors are able to enter into separate, additional contractual arrangements for the non-exclusive distribution of the journal's published version of the work (e.g., post it to an institutional repository or publish it in a book), with an acknowledgement of its initial publication in this journal.
Authors are permitted and encouraged to post their work online (e.g., in institutional repositories or on their website) prior to and during the submission process, as it can lead to productive exchanges, as well as earlier and greater citation of published work (See

The Effect of Open Access

).