Phytochemical screening, antibacterial and antioxidant activities of Asparagus laricinus leaf and stem extracts
Keywords:
Asparagus laricinus, Antibacterial Activity, Antioxidant Activity, Phytochemical screening
Abstract
The aim of this study was to investigate antioxidant activities, antibacterial activities and a phytochemical constituent of Asparagus laricinus stem and leaf extracts. Determination of antibacterial activity of extracts was assessed by agar dilution method and antioxidant properties by 2,2-diphenyl-1-picryl-hydrazyl (DPPH) assay. The minimum inhibitory concentration (MIC) of the leaf was at a concentration of 0.125 mg/mL against S. saprophyticus and E. cloacae, and at a concentration of 1 mg/mL against S. aureus and B. subtilis. There was no MIC of the stem extract at any concentration. The leaf extract showed effective free radical scavenging activity (72.1%), while stem extract had low activity. Qualitative phytochemical analysis of these plant extracts revealed the presence of tannins, saponins, flavonoids and phlobatannins. The leaf extract further confirmed the presence of glycosides, steroids, ternoids and carbohydrates. Our results indicate that, A. laricinus leaf extracts have potential antimicrobial and antioxidant activities.
Downloads
Download data is not yet available.
Abstract
2607
Download
1367 Read
553
References
Alison AW, George WJF, Naoki A, Russell JM, Robert JN. Polyhydroxylated alkaloids: Natural occurrence and therapeutic applications. Phytochemistry 2001; 56: 265-95.
Aruoma OI. Free radicals, oxidative stress, and anti-oxidants in human health and disease. J Am Oil Chem Soc. 1998; 75: 199-212.
Atta-ur-Rahman, Choudhary M.I. Bioactive natural products as potential source of new pharmacophores. A theory of memory. Pure Appl Chem. 2001; 73: 555-60.
Berrino F, Verdecchaia A, Lutz JM, Lombardo C, Micheli A, Capocaccia R. Comparative cancer survival information in Europe. Eur J Cancer. 2009; 45: 901-08.
Brummitt RK. Vascular plant families and genera. Royal Botanical Gardens, Kew. 1992, p 804.
Dixon RA, Dey PM, Lamb CJ. Phytoalexins: Enzymology and molecular biology. Adv Enzymol. 1983; 55: 1-69.
Fennell CW, Lindsey KL, McGaw LJ, Sprag SG, Staffort GI, Elgorashi EE, Grace OM, Van Staden J. Assessing African medicinal plants for efficacy and safety: Pharmacological screening and toxicity. J Ethnopharmacol. 2004; 94: 205-17.
Filomena C, Silvio S, Mariangela M, Federica M, Giancarlo AS, Dimitar U, Aurelia T, Francesco M, Roberto DL. In vivo anti-inflammatory and in vitro antioxidant activities of Mediterranean dietary plants. J Ethnopharmacol. 2008; 116: 144-51.
Harborne JB. Phytochemical methods: a guide to modern techniques of plant analysis. 3rd ed. London, Chapman & Hall, 1998, p 302.
Just MJ, Recio MC, Giner RM, Cuellar MJ, Manez S, Bilia AR, Rios JL. Anti-Inflammatory activity of unusual lupine saponins from Bupleurum fruticescens. Planta Medica. 1998; 64: 404-07.
Kelmanson GE, Jäger AK, Van Staden J. Zulu medicinal plants with anti-bacterial activity. J Ethnopharmacol. 2000; 69: 241-46.
Li H, Wang Z, Liu Y. Review in the studies on tannins activity of cancer prevention and anticancer. Zhong-Yao-Cai. 2003; 26: 444-48.
Madamombe LT, Afolayan AJ. Evaluation of antimicrobial activity of extracts from South African Usnea barbata. Pharmaceut Biol. 2003; 41: 199-202.
Mashele SS, Kolesnikova N. In vitro anticancer screening of asparagus laricinus extracts. Pharmacologyonline 2010; 2: 246-52.
Mashele SS, Fuku S. Evaluation of the antimutagenic and mutagenic properties of asparagus laricinus. Med Technol. 2011; 2: 33-36.
Mason T L, Wasserman BP. Inactivation of red beet beta-glucan synthase by native and oxidized phenolic compounds. Phytochemistry 1987; 26: 2197-202.
Massika PJ, Afolayan AJ. Antimicrobial activity of some plants used for the treatment of livestock diseases in the Eastern Cape, South Africa. J Ethnopharmacol. 2002; 83: 129-34.
Michael K, Toby L, Nizet V. Innate Immunity Gone Awry: Linking microbial infections to chronic inflammation and cancer. Cell 2006; 124: 823-35.
Mosquera OM, Correa YM, Buitrago DC, Niö J. Anti-oxidant activity of twenty five plants from Colombian biodiversity. Memórias do Instituto Oswaldo Cruz. 2007; 102: 631-34.
Ning G, Tianhua L, Xin Y, He P. Constituents in Desmodium blandum and their antitumor activity. Chinese Tradit Herbal Drug. 2009; 40: 852-56.
Nikaido H, Vaara M. Molecular basis of bacterial outer membrane permeability. Microbiol Rev. 1985; 1: 1-32.
Pervival M. Phytonutrients and detoxification. Clin Nutr Insight. 1997; 35: 1-4.
Sala A, Recio MD, Giner RM, Manez S, Tournier H, Schinella G, Rios JL. Anti-inflammatory and antioxidant properties of Helichrysum italicum. J Pharm Pharmacol. 2002; 54: 365-71.
Sasaki YF, Kawaguchi S, Kamaya A, Ohshita M, Kabasawa K, Iwama K. The comet assay with 8 mouse organs: Results with 39 currently used food additives. Mutation Res Genet Toxicol Environ Mutag. 2002; 519: 103-09.
Scalbert A. Antimicrobial properties of tannins. Phytochemistry 1991; 30: 3875-83.
Scherrer R, Gerhardt P. Molecular sieving by the Bacillum megaterium cell wall and protoplast. J Bacteriol. 1971; 107: 718-35.
Singleton VL, Rossi Jr. Colorimetric of total phenolics with phosphomolybdic-phosphotungstic acid reagents. Am J Enol Viticult. 1965; 16: 144-58.
Shirwaikar A, Rajendran K, Punithaa IS. In vitro anti-oxidant studies on the benzyltetra isoquinoline alkaloid berberine. Biol Pharmaceut Bull. 2006; 29: 190610.
Trease GE, Evans WC. Textbook of pharmacognosy 12th ed. London, Balliere Tindall, 1989, p 546.
Van der Merwe D, Swan GE, Botha CJ. Use of ethnoveterinary medical plants in cattle by Setswana-speaking people in the Madikwe area of the North West Province of South Africa. J South African Veterinary Assoc. 2001; 72: 189-96.
Wong CC, Li HB, Cheng KW, Chen F. A systematic survey of antioxidant activity of 30 Chinese medicinal plants using the ferric reducing antioxidant power assay. Food Chem. 2006; 97: 705-11.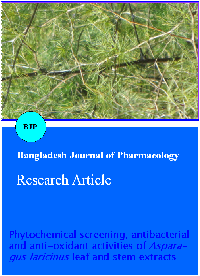 Additional Files
How to Cite
Ntsoelinyane, P.-M.-A. H., and S. Mashele. "Phytochemical Screening, Antibacterial and Antioxidant Activities of Asparagus Laricinus Leaf and Stem Extracts". Bangladesh Journal of Pharmacology, vol. 9, no. 1, Jan. 2014, pp. 10-14, doi:10.3329/bjp.v9i1.16967.
Section
Research Articles
License
Authors who publish with this journal agree to the following terms:
Authors retain copyright and grant the journal right of first publication with the work simultaneously licensed under a

Creative Commons Attribution License

that allows others to share the work with an acknowledgement of the work's authorship and initial publication in this journal.
Authors are able to enter into separate, additional contractual arrangements for the non-exclusive distribution of the journal's published version of the work (e.g., post it to an institutional repository or publish it in a book), with an acknowledgement of its initial publication in this journal.
Authors are permitted and encouraged to post their work online (e.g., in institutional repositories or on their website) prior to and during the submission process, as it can lead to productive exchanges, as well as earlier and greater citation of published work (See

The Effect of Open Access

).