Antiproliferative and apoptotic effects of pinocembrin in human prostate cancer cells
Keywords:
Apoptosis, LNCaP cell, Pinocembrin, Prostate cancer
Abstract
Pinocembrin, (5, 7-dihydroxyflavanone), has been shown to possess anticancer activity against various cancer cells. However, its effect against prostate cancer cells remained enigmatic. In this study, for the first time, we investigated whether pinocembrin could inhibit growth of human prostate cancer cells. MTT assay and flow cytometric analysis were performed to examine the effects of pinocembrin on cell proliferation, cell cycle, and apoptosis. The results revealed that pinocembrin attenuated the cell viability of both androgen-sensitive (LNCaP) as well as androgen-independent (PC3 and DU-145) prostate cancer cell lines, with different p53 status. Further characterization showed that pinocembrin markedly induced apoptosis of LNCaP cells and arrested cell cycle at S and G2/M phase and involved in the dissipation of mitochondrial membrane potential before culminating in apoptosis in pinocembrin-treated LNCaP cells. These in vitro results suggested that pinocembrin should be further examined for in vivo activity in human prostate cancer.
Downloads
Download data is not yet available.
Abstract
5452
Download
967 Read
474
References
Adams JM, Cory S. The Bcl-2 apoptotic switch in cancer development and therapy. Oncogene 2007; 26: 1324-37.
Amin AR, Kucuk O, Khuri FR, Shin DM. Perspectives for cancer prevention with natural compounds. J Clin Oncol. 2009; 27: 2712-25.
Burlacu A. Regulation of apoptosis by Bcl-2 family proteins. J Cell Mol Med. 2003; 7: 249-57.
Cragg GM, Newman DJ. Plants as a source of anti-cancer agents. J Ethnopharmacol. 2005; 100: 72-79.
Danial NN. BCL-2 family proteins: Critical checkpoints of apoptotic cell death. Clin Cancer Res. 2007; 13: 7254-63.
Diaz Napal GN, Carpinella MC, Palacios SM. Antifeedant activity of ethanolic extract from Flourensia oolepis and isolation of pinocembrin as its active principle compound. Bioresour Technol. 2009; 100: 3669-73.
Elmore S. Apoptosis: A review of programmed cell death. Toxicol Pathol. 2007; 35: 495-516.
Estevinho L, Pereira AP, Moreira L, Dias LG, Pereira E. Antioxidant and antimicrobial effects of phenolic compounds extracts of Northeast Portugal honey. Food Chem Toxicol. 2008; 46: 3774-79.
Feng R, Guo ZK, Yan CM, Li EG, Tan RX, Ge HM. Anti-inflammatory flavonoids from Cryptocarya chingii. Phytochemistry 2012; 76: 98-105.
Fulda S. Evasion of apoptosis as a cellular stress response in cancer. Int J Cell Biol. 2010; 2010: 370835.
Grana X, Reddy EP. Cell cycle control in mammalian cells: Role of cyclins, cyclin dependent kinases (CDKs), growth suppressor genes and cyclin-dependent kinase inhibitors (CKIs). Oncogene 1995; 11: 211-19.
Hanahan D, Weinberg RA. The hallmarks of cancer. Cell 2000; 100: 57-70.
Hengartner MO. The biochemistry of apoptosis. Nature 2000; 407: 770-776.
Hsu CL, Yu YS, Yen GC. Anticancer effects of Alpinia pricei Hayata roots. J Agric Food Chem. 2010; 58: 2201-2208.
Jaganathan SK, Mandal M. Antiproliferative effects of honey and of its polyphenols: a review. J Biomed Biotechnol. 2009; 2009: 830616.
Jemal A, Siegel R, Xu J, Ward E. Cancer statistics, 2010. CA Cancer J Clin. 2010; 60: 277-300.
Jeong SY, Seol DW. The role of mitochondria in apoptosis. BMB Rep. 2008; 41: 11-22.
Jiang H, Morgan JA. Optimization of an in vivo plant P450 monooxygenase system in Saccharomyces cerevisiae. Biotechnol Bioeng. 2004; 85: 130-37.
Kluck RM, Bossy-Wetzel E, Green DR, Newmeyer DD. The release of cytochrome c from mitochondria: a primary site for Bcl-2 regulation of apoptosis. Science 1997; 275: 1132-36.
Kumar MA, Nair M, Hema PS, Mohan J, Santhoshkumar TR. Pinocembrin triggers Bax-dependent mitochondrial apoptosis in colon cancer cells. Mol Carcinog. 2007; 46: 231-41.
Lawen A. Apoptosis-an introduction. Bioessays 2003; 25: 888-96.
Leist M, Jaattela M. Four deaths and a funeral: from caspases to alternative mechanisms. Nat Rev Mol Cell Biol. 2001; 2: 589-98.
Li L, Yue GG, Lau CB, Sun H, Fung KP, Leung PC, Han Q, Leung PS. Eriocalyxin B induces apoptosis and cell cycle arrest in pancreatic adenocarcinoma cells through caspase- and p53-dependent pathways. Toxicol Appl Pharmacol. 2012; 262: 80-90.
Mallat Z, Tedgui A. Apoptosis in the vasculature: Mechanisms and functional importance. Br J Pharmacol. 2000; 130: 947-62.
Miyahisa I, Funa N, Ohnishi Y, Martens S, Moriguchi T, Horinouchi S. Combinatorial biosynthesis of flavones and flavonols in Escherichia coli. Appl Microbiol Biotechnol. 2006; 71: 53-58.
Pan L, Matthew S, Lantvit DD, Zhang X, Ninh TN, Chai H, Carcache de Blanco EJ, Soejarto DD, Swanson SM, Kinghorn AD. Bioassay-guided isolation of constituents of Piper sarmentosum using a mitochondrial transmembrane potential assay. J Nat Prod. 2011; 74: 2193-99.
Rasul A, Bao R, Malhi M, Zhao B, Tsuji I, Li J, Li X. Induction of Apoptosis by Costunolide in Bladder Cancer Cells is Mediated through ROS Generation and Mitochondrial Dysfunction. Molecules 2013; 18: 1418-33.
Rasul A, Ding C, Li X, Khan M, Yi F, Ali M, Ma T. Dracorhodin perchlorate inhibits PI3K/Akt and NF-kappaB activation, up-regulates the expression of p53, and enhances apoptosis. Apoptosis 2012a; 17: 1104-19.
Rasul A, Khan M, Yu B, Ma T, Yang H. Xanthoxyletin, a coumarin induces S phase arrest and apoptosis in human gastric adenocarcinoma SGC-7901 cells. Asian Pac J Cancer Prev. 2011a; 12: 1219-23.
Rasul A, Song R, Wei W, Nishino Y, Tsuji I, Li X, Li J. Tubeimoside-1 inhibits growth via the induction of cell cycle arrest and apoptosis in human melanoma A375 cells. Bangladesh J Pharmacol. 2012b; 7: 150-56.
Rasul A, Yu B, Yang LF, Ali M, Khan M, Ma T, Yang H. Induction of mitochondria-mediated apoptosis in human gastric adenocarcinoma SGC-7901 cells by kuraridin and Norkurarinone isolated from Sophora flavescens. Asian Pac J Cancer Prev. 2011b; 12: 2499-504.
Rasul A, Yu B, Zhong L, Khan M, Yang H, Ma T. Cytotoxic effect of evodiamine in SGC-7901 human gastric adenocarcinoma cells via simultaneous induction of apoptosis and autophagy. Oncol Rep. 2012c; 27: 1481-87.
Reed JC. Bcl-2 family proteins. Oncogene 1998; 17: 3225-36.
Reed JC. Dysregulation of apoptosis in cancer. J Clin Oncol. 1999; 17: 2941-53.
Reed JC. Apoptosis-based therapies. Nat Rev Drug Discov. 2002; 1: 111-21.
Ricci MS, Zong WX. Chemotherapeutic approaches for targeting cell death pathways. Oncologist 2006; 11: 342-57.
Salahdeen HM, Murtala BA. Vasorelaxant effects of aqueous leaf extract of Tridax procumbens on aortic smooth muscle isolated from the rat. J Smooth Muscle Res. 2012; 48: 37-45.
Srivastava JK, Gupta S. Tocotrienol-rich fraction of palm oil induces cell cycle arrest and apoptosis selectively in human prostate cancer cells. Biochem Biophys Res Commun. 2006; 346: 447-53.
Tsao AS, Kim ES, Hong WK. Chemoprevention of cancer. CA Cancer J Clin. 2004; 54: 150-80.
Vermeulen K, Van Bockstaele DR, Berneman ZN. The cell cycle: A review of regulation, deregulation and therapeutic targets in cancer. Cell Prolif. 2003; 36: 131-49.
Wang X. The expanding role of mitochondria in apoptosis. Genes Dev. 2001; 15: 2922-33.
Xu Y, Chiu JF, He QY, Chen F. Tubeimoside-1 exerts cytotoxicity in HeLa cells through mitochondrial dysfunction and endoplasmic reticulum stress pathways. J Proteome Res. 2009; 8: 1585-93.
Zizic JB, Vukovic NL, Jadranin MB, Andelkovic BD, Tesevic VV, Kacaniova MM, Sukdolak SB, Markovic SD. Chemical composition, cytotoxic and antioxidative activities of ethanolic extracts of propolis on HCT-116 cell line. J Sci Food Agric. 2013.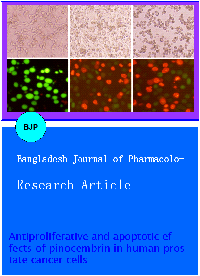 How to Cite
Chen, Z., A. Rasul, C. Zhao, F. M. Millimouno, I. Tsuji, T. Yamamura, R. Iqbal, M. Malhi, X. Li, and J. Li. "Antiproliferative and Apoptotic Effects of Pinocembrin in Human Prostate Cancer Cells". Bangladesh Journal of Pharmacology, vol. 8, no. 3, May 2013, pp. 255-62, doi:10.3329/bjp.v8i3.14795.
Section
Research Articles
License
Authors who publish with this journal agree to the following terms:
Authors retain copyright and grant the journal right of first publication with the work simultaneously licensed under a

Creative Commons Attribution License

that allows others to share the work with an acknowledgement of the work's authorship and initial publication in this journal.
Authors are able to enter into separate, additional contractual arrangements for the non-exclusive distribution of the journal's published version of the work (e.g., post it to an institutional repository or publish it in a book), with an acknowledgement of its initial publication in this journal.
Authors are permitted and encouraged to post their work online (e.g., in institutional repositories or on their website) prior to and during the submission process, as it can lead to productive exchanges, as well as earlier and greater citation of published work (See

The Effect of Open Access

).