Alkaloids content, cytotoxicity and anti-Toxoplasma gondii activity of Psidium guajava L. and Tinospora crispa
Keywords:
Alkaloid, Cytotoxicity, In vitro anti-Toxoplasma gondii assay, Psidium guajava, Tinospora crispa
Abstract
The alkaloids content, cytotoxicity activity and anti-parasitic activity of Tinospora crispa Miers and Psidium guajava L. against parasite Toxoplasma gondii were investigated. Both of the crude plant extracts contained high amount of crude alkaloids and were not toxic to Vero cells (EC50 >100 µg/mL). Following non-toxicity finding of the extracts, the in vitro anti-parasitic assay was carried out with clindamycin served as the positive control. T. crispa stem crude extract with EC50 value of 7.71 ± 1.56 µg/mL, showed potential anti-T. gondii activity as the results were comparable to clindamycin (EC50 = 6.24 ± 0.53 µg/mL). These findings suggest that stem extract of T. crispa Miers contained some potential active compounds against Toxoplasma gondii. Selective important alkaloids in the T. crispa stem fractions may be the key factor for their anti-parasitic activity. Further study is being carried out to investigate for potential bioactives present in the T. crispa extract through bioactivity guided fractionation.
Downloads
Download data is not yet available.
Abstract
2581
Download
1003 Read
525
References
Belloni A, Villena I, Gomez JE, Pelloux H, Bonhomme A, Guenounou M, Pinon JM, Aubert D. Regulation of tumor necrosis factor alpha and its specific receptors during Toxoplasma gondii infection in human monocytic cells. Parasitol Res. 2003; 89: 20713.
Bertani S, Bourdy G, Landau I, Robinson JC, Esterre P, Deharo E. Evaluation of French Guiana traditional antimalarial remedies. J Ethnopharmacol. 2005; 98: 45-54.
Chirgwin K, Hafner R, Leport C, Remington J, Andersen J, Bosler EM, Roque C, Rajicic N, McAuliffe V, Morlat P, Jayaweera DT, Vilde JL, Luft BJ. Randomized phase II trial of atovaquone with pyrimethamine or sulfadiazine for treatment of toxoplasmic encephalitis in patients with acquired immunodeficiency syndrome: ACTG 237/ANRS 039 Study. AIDS Clinical Trials Group 237/Agence Nationale de Recherche sur le SIDA, Essai 039. Clin Infect Dis. 2002; 34: 1243-50.
Derouich-Guergour D, Aldebert D, Vigan I, Jouvin-Marche E, Marche PN, Aubert D, Ambroise-Thomas P, Pelloux H. Toxoplasma gondii infection can regulate the expression of tumour necrosis factor-alpha receptors on human cells in vitro. Parasite Immunol. 2002; 24: 27179.
Djurkovic-Djakovic O, Nikolic T, Robert-Gangneux F, Bobic B, Nikolic A. Synergistic effect of clindamycin and atovaquone in acute murine toxoplasmosis. Antimicrob Agents Chemother. 1999; 43: 2240-44.
Dweck AC, Cavin JP. Andawali (Tinospora crispa): A review. Personal Care Magazine. 2006; 7: 33-39.
Dweck AC. A review of guava (Psidium guajava). Personal Care Magazine. 2005; 6: 33-39.
Harborne JB. Textbook of phytochemical methods. 1st ed. London, Champraan and Hall Ltd., 1973, pp 110-13.
Harborne JB. Introduction to ecological chemistry. 3rd ed. London, Academic Press, 1988, pp 354-60.
Herbal Medicine Research. Compendium of medicinal plants used in Malaysia. Kuala Lumpur, Herbal Medicine Research Centre, 2002, pp 392-93.
Luft BJ, Remington JS. Toxoplasmic encephalitis in AIDS. Clin Infect Dis. 1992; 15: 21122.
Montoya JG, Liesenfeld O. Toxoplasmosis. Lancet. 2004; 363: 1965-76.
Mosmann T. Rapid colorimetric assay for cellular growth and survival: application to proliferation and cytotoxicity assay. J Immunol Methods. 1983; 65: 55-63.
Noor H, Ashcroft SJ. Pharmacological characterisation of the antihyperglycaemic properties of Tinospora crispa extract. J Ethnopharmacol. 1998; 62: 713.
Obadoni BO, Ochuko PO. Phytochemical studies and comparative efficacy of the crude extracts of some homeostatic plants in Edo and Delta States of Nigeria. Global J Pure Appl Sci. 2001; 8: 203-08.
Okwu DE. Phytochemicals and vitamin content of indigenous spices of South Eastern Nigeria. J Sustain Agric Environ. 2004; 6: 30-37.
Saadatnia G, Haj Ghani H, Khoo BY, Maimunah A, Rahmah N. Optimization of Toxoplasma gondii cultivation in VERO cell line. Trop Biomed. 2010; 27: 125-30.
Shen SC, Chen FC, Wu NJ. Effect of guava (Psidium guajava Linn.) leaf soluble solids on glucose methabolism in type 2 diabetic rats. Phytother Res. 2008; 22: 1458-64.
Siddiqi MA, Nasir E, Ali SI. Flora of West Pakistan. Issues 56-75. Karachi, Feroz Sons, 1974, pp 74-75.
SS Singh, SC Pandey, S Srivastava, VS Gupta, B Patro, AC Ghosh. Chemistry and medicinal properties of Tinospora cordifolia (Guduchi). Indian J Pharmacol. 2003; 35: 8391.
Stary F. The natural guide to medicinal herbs and plants. London, Tiger Books Intl., 1998, pp 12-16.
Werk R. How does Toxoplasma gondii enter host cells? Rev Infect Dis. 1985; 7: 44957.
Zaridah MZ, Idid SZ, Omar AW, Khozirah S. In vitro antifilarial effects of three plant species against adult worms of subperiodic Brugia malayi. J Ethnopharmacol. 2001; 78: 79?84.
Zirihi GN, Mambu L, Guede-Guina F, Bodo B, Grellier P. In vitro antiplasmodial activity and cytotoxicity of 33 West African plants used for treatment of malaria. J Ethnopharmacol. 2005; 98: 281-85.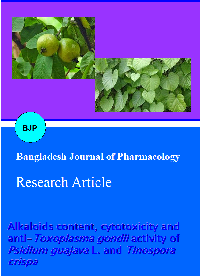 Additional Files
How to Cite
Lee, W. C., R. Mahmud, R. Noordin, S. P. Piaru, S. Perumal, and S. Ismail. "Alkaloids Content, Cytotoxicity and Anti-Toxoplasma Gondii Activity of Psidium Guajava L. And Tinospora Crispa". Bangladesh Journal of Pharmacology, vol. 7, no. 4, Nov. 2012, pp. 272-6, doi:10.3329/bjp.v7i4.12499.
Section
Research Articles
License
Authors who publish with this journal agree to the following terms:
Authors retain copyright and grant the journal right of first publication with the work simultaneously licensed under a

Creative Commons Attribution License

that allows others to share the work with an acknowledgement of the work's authorship and initial publication in this journal.
Authors are able to enter into separate, additional contractual arrangements for the non-exclusive distribution of the journal's published version of the work (e.g., post it to an institutional repository or publish it in a book), with an acknowledgement of its initial publication in this journal.
Authors are permitted and encouraged to post their work online (e.g., in institutional repositories or on their website) prior to and during the submission process, as it can lead to productive exchanges, as well as earlier and greater citation of published work (See

The Effect of Open Access

).