Physico-chemical studies and evaluation of diuretic activity of Cucurbita maxima
Keywords:
Cucurbita maxima, Diuretic activity, Physico-chemical parameters.
Abstract
In this study physico-chemical nature and diuretic activity was evaluated to establish the purity and diuretic activity by comparing with the standard acetazolamide. Pulp of Cucurbita maxima is a common cost effective Indian dish, rich in nutrients. Physico-chemical parameters like ash values, extractive values and loss on drying were performed to find the purity. The hydro-alcoholic extract was prepared by extracting the powder in soxhlet apparatus for 36 hrs. The laboratory qualitative analysis was done and constituents like carbohydrates, proteins, lipids, flavonoids, alkaloids and vitamin C were found. The two doses of extract (150 and 300 mg/kg) were given to the rats. Group I served as control, Group II served as standard and Group III and IV served as test. Electrolytes and urine volume was measured after 5 hrs of treatment and the same was compared with the control and the standard drug acetazolamide. Physico-chemical parameters were in the limit and the extract shows significant (p<0.01) diuretic activity at the dose of 300 mg/kg when compared with control.
Downloads
Download data is not yet available.
Abstract
4047
Download
1324 Read
348
References
Caili FU, Shi Huan, Quanhong LI. A review on pharmacological activities and utilization technologies of pumpkin. Plant Foods Hum Nutr. 2006; 61: 73-80.
Chandra Kalyan Reddy Y, Sandya L, Sandeep D, Salomi KR, Nagarjuna S, Reddy YP. Evaluation of diuretic activity of aqueous and ethanolic extracts of Lawsonia inermis leaves in rats. Asian J Plant Sci Res. 2011; 1: 28-33.
Chaudhri RD. Herbal drugs industry: A practical approach to industrial pharmacognosy. 1st ed. New Delhi, Eastern Publishers, 1996: 505-06.
De Stevens G. Diuretics: Chemistry and pharmacology. 1st ed. New York, Academic Press, 1963, pp 2-7, 52-58.
Divakar MC. Plant drug evaluation: A laboratory guide. 2nd ed. Coimbatore, CD Remedies, 2005, pp 42-45.
Farnsworth NR, Akerele O, Bingel AS, Soejarto DD, Guo ZG. Medicinal plants in therapy: Bull World Health Org. 1985; 63: 8397.
Hancock RD, Haupt S, Viola R. Synthesis of l-ascorbic acid in phloem. Plant Biol. 2003; 3: 1-13.
Harbone JB. Phytochemical methods. 3rd ed. New Delhi, Springer (India) Pvt Ltd, 1998 pp 4-6.
Kirtikar KR, Basu BD. Indian medicinal plants. 2nd ed. India, Oriental Enterprises, 2003, pp 1606-08.
Modi DC, Patel JK, Shah BN, Nayak BS. Pharmacognostic studies of the seed of syzygium cumini Linn. Int J Pharm Sci. 2010; 1: 20-26.
Nawirska-Olsza?ska A, Biesiada A, Sokó?-??towska A, Kucharska AZ. Content of bioactive compounds and antioxidant capacity of pumpkin puree enriched with Japanese quince, cornelian cherry, strawberry and apples. Acta Sci Pol Technol Aliment. 2011; 10: 51-60.
Parial S, Jain DC, Joshi SB. Diuretic activity of the extracts of Limonia Acidissima in rats. Rasayan J Chem. 2009; 2: 53-56.
Tadmor Y, Paris HS, Meir A, Schaffer AA, Lewinsohn E. Dual role of pigmentation gene B in affecting carotenoids and vitamin E content in squash Mesocarp. J Agric Food Chem. 2005; 53: 9759-63.
Thomas S, Patil DA, Patil AG, Chandra N. Pharmacognostic evaluation and physicochemical analysis of Averrhoa carambola L. fruit. J Herb Med Toxicol. 2008; 2: 51-54.
Vanamala U, Elumalai A, Eswaraiah CM, Shaik A. An updated review on diuretic plants- 2012. Int J Pharm Biol Arch. 2012; 3: 29-31.
Sahu VK, Irchhaiya R, Shashi A, Gurjar H. Phytochemical investigation and chromatographic evaluation of the ethanolic extract of whole plant extract of Dendrophthoe falcata (l.f.) Ettingsh. Int J Pharm Sci Res. 2010; 1: 39-45.
Yar MS, Ansari ZH. Synthesis and in vivo diuretic activity of biphenyl Benzothiazole-2-carboxamide derivatives. Acta Pol Pharm- Drug Res. 2009; 66: 387-92.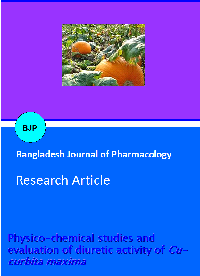 Additional Files
How to Cite
Saravanan, V. S., and S. Manokaran. "Physico-Chemical Studies and Evaluation of Diuretic Activity of Cucurbita Maxima". Bangladesh Journal of Pharmacology, vol. 7, no. 4, Dec. 2012, pp. 277-80, doi:10.3329/bjp.v7i4.12497.
Section
Research Articles
License
Authors who publish with this journal agree to the following terms:
Authors retain copyright and grant the journal right of first publication with the work simultaneously licensed under a

Creative Commons Attribution License

that allows others to share the work with an acknowledgement of the work's authorship and initial publication in this journal.
Authors are able to enter into separate, additional contractual arrangements for the non-exclusive distribution of the journal's published version of the work (e.g., post it to an institutional repository or publish it in a book), with an acknowledgement of its initial publication in this journal.
Authors are permitted and encouraged to post their work online (e.g., in institutional repositories or on their website) prior to and during the submission process, as it can lead to productive exchanges, as well as earlier and greater citation of published work (See

The Effect of Open Access

).