In Vitro Shoot Regeneration of Rice (<i>Oryza sativa</i> L.) Varieties under Artificial Drought Stress
Anindita Chakraborty

Department of Genetic Engineering & Biotechnology, Shahjalal University of Science and Technology (SUST), Sylhet-3114

Soumitra Chowdhury

Department of Genetic Engineering & Biotechnology, Shahjalal University of Science and Technology (SUST), Sylhet-3114

Zahidul Haque

Department of Genetic Engineering & Biotechnology, Shahjalal University of Science and Technology (SUST), Sylhet-3114

Asim Kanti Dash

Department of Genetic Engineering & Biotechnology, Shahjalal University of Science and Technology (SUST), Sylhet-3114

A T M J Mosnaz

Department of Genetic Engineering & Biotechnology, Shahjalal University of Science and Technology (SUST), Sylhet-3114
Keywords:
Drought, polyethylene glycol, shoot regeneration
Abstract
The shoot regeneration efficiency of two rice (Oryza sativa L.) varieties (Kasalath and BRRI dhan55) under artificial drought condition created by polyethylene glycol (PEG-6000) was investigated. Calli were induced in Murashige and Skoog (MS) medium supplemented with different concentrations (0, 0.5, 1.0, 1.5, 2.0, 2.5, 3.0, and 4.0 mg/L) of 2, 4‐Dichlorophenoxyacetic acid (2, 4‐D). Then, in vitro shoot regeneration under PEG (6000) was conducted on MS medium supplemented with 1.0 mg/L NAA + 2.0 mg/L BAP + 1.0 mg/L kinetin that gave the highest number of shoots. Shoot regeneration in both varieties reduced with increased levels of PEG (0.5, 1.0, 2.0, 3.0 and 4.0%). Regeneration efficiency of BRRI dhan55 in drought stress was higher compared to Kasalath. Thus, in vitro screening of plantlets under PEG can be used to achieve fast and reliable selection for tolerance against drought. 
The Agriculturists
2018; 16(1) 55-64
Downloads
Download data is not yet available.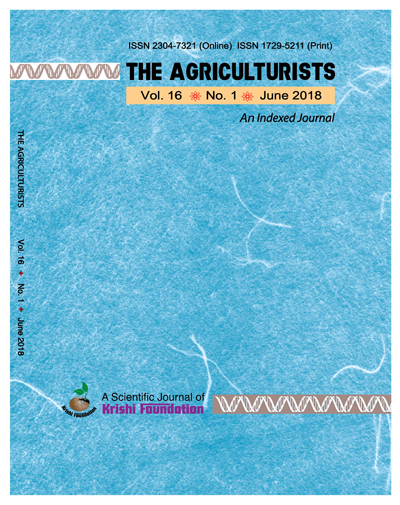 How to Cite
Chakraborty, A., Chowdhury, S., Haque, Z., Dash, A., & Mosnaz, A. T. M. J. (2018). In Vitro Shoot Regeneration of Rice (<i>Oryza sativa</i&gt; L.) Varieties under Artificial Drought Stress. The Agriculturists, 16(1), 55-64. https://doi.org/10.3329/agric.v16i1.37534