Evaluation of Rice (<i>Oryza sativa</i> L.) Genotypes for Drought Tolerance at Germination and Early Seedling Stage
M M Islam

Departments of Agronomy, Bangabandhu Sheikh Mujibur Rahman Agricultural University, Gazipur-1706

E Kayesh

Departments of Horticulture, Bangabandhu Sheikh Mujibur Rahman Agricultural University, Gazipur-1706

E Zaman

Departments of Agronomy, Bangabandhu Sheikh Mujibur Rahman Agricultural University, Gazipur-1706

T A Urmi

Departments of Soil Science, Bangabandhu Sheikh Mujibur Rahman Agricultural University, Gazipur-1706

M M Haque

Departments of Agronomy, Bangabandhu Sheikh Mujibur Rahman Agricultural University, Gazipur-1706
Keywords:
Drought stress, seed germination, seedling growth, rice genotypes, tolerance
Abstract
Drought stress is a major constraint to the production and yield stability of crops. Rice (Oryza sativa L.) is considered as a drought-sensitive crop species. Within this species, there are considerable varietal differences in sensitivity to this environmental stress. An experiment was conducted at the laboratory of the Department of Agronomy, Bangabandhu Sheikh Mujibur Rahman Agricultural University (BSMRAU), Bangladesh during April to September 2016 to evaluate 100 rice genotypes for drought tolerance during germination and early seedling growth stage. The genotypes were tested against five levels of drought stress imposed by Polyethylene glycol 6000 (PEG-6000) @ 0, 5, 10, 15 and 20%. The experiment was laid out in a complete randomized design with four replications. The results showed that with increasing water stress, germination in all the genotypes decreased from 95.8% in control to 6.6 % in highest stress (20% PEG) level. Seedling height and dry weight also decreased in all rice genotypes with the increase in water stress level. Based on Standard Evaluation System (SES),18 genotypes were selected primarily. Among the 18 genotypes, Ratoil and Chinisakkar showed higher germination index, relative seedling height and relative seedling dry weight than the check drought tolerant BRRI dhan43 at 20% PEG. Beside these, performance of Kumridhan, Pusur and Somondori was also well at this level compared to BRRI dhan43. The genotypes Ratoil, Chinisakkar, Kumridhan, Pusur and Somondori showed the best performance under drought condition.
The Agriculturists
2018; 16(1) 44-54
Downloads
Download data is not yet available.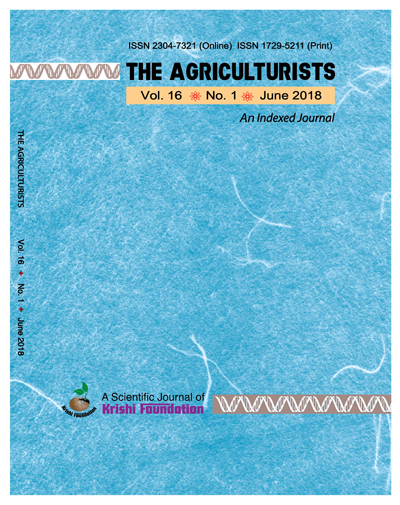 How to Cite
Islam, M. M., Kayesh, E., Zaman, E., Urmi, T. A., & Haque, M. M. (2018). Evaluation of Rice (<i>Oryza sativa</i&gt; L.) Genotypes for Drought Tolerance at Germination and Early Seedling Stage. The Agriculturists, 16(1), 44-54. https://doi.org/10.3329/agric.v16i1.37533