Effect of Seed Priming on Seed Germination and Seedling Growth of Modern Rice (<i>Oryza sativa</i> L.) Varieties
A A Mamun

Seed Marketing Division, Bangladesh Agricultural Development Corporation, Gazipur

U A Naher

Soil Science Division, Bangladesh Rice Research Institute, Gazipur

M Y Ali

Agrotechnology Discipline, Khulna University, Khulna
Keywords:
Priming, Variety, Germination, Seedling growth parameters
Abstract
The experiment was carried out in the Seed Laboratory of Bangladesh Agricultural Development Corporation (BADC), Gazipur during June to July 2014 to investigate the effects of different priming methods on seed germination and the seedling growth of some rice (Oryza sativa L.)  varieties. Four rice varieties: 1) Nerica, 2) BRRI dhan51, 3) BRRI dhan41 and 4) BRRI dhan49; and six priming treatments: 1) On-farm Priming, 2) Hardening, 3) Hydro-priming, 4) Osmo-hardening, 5) Vitamin C Priming and 6) Control were used in the experiment. The experiment was laid out in a completely randomized design (CRD). The treatments were replicated three times. The germination percentage and seedling growth parameters differed significantly among the priming treatments. For germination, Nerica variety showed poor performance, whereas the other varieties were found superior. Among the priming treatments, Vitamin C priming and Osmo-hardening were found superior. In case of interaction, germination was increased with Vitamin C priming and Osmo-hardening in Nerica. For seedling growth parameters, particularly vigor index, shoot and root lengths, BRRI dhan41 and BRRI dhan51 were found superior. The priming treatment Vitamin C and Osmo-hardening performed better than others.  Seedling vigor index was increased with Vitamin C priming and Osmo-hardening in Nerica variety. Shoot length at 15th day was influenced by hydro-priming in Nerica. Root length at 10th day was significantly increased with hardening in BRRI dhan41. Vitamin C priming and Osmo-hardening could therefore, be used for improving germination and seedling growth of Nerica.
The Agriculturists
2018; 16(1) 34-43
Downloads
Download data is not yet available.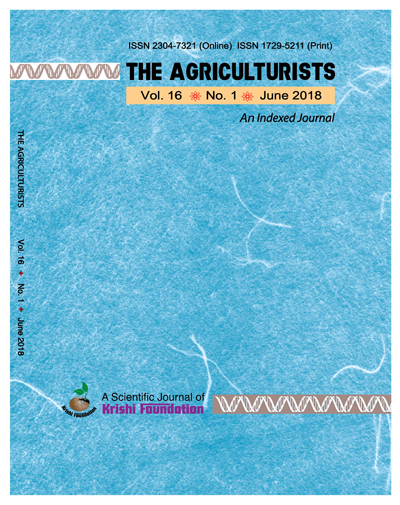 How to Cite
Mamun, A. A., Naher, U. A., & Ali, M. Y. (2018). Effect of Seed Priming on Seed Germination and Seedling Growth of Modern Rice (<i>Oryza sativa</i&gt; L.) Varieties. The Agriculturists, 16(1), 34-43. https://doi.org/10.3329/agric.v16i1.37532