Resistance to Paterfamilias in Purabi Basu's two short stories: "Radha Will Not Cook Today" and "Saleha's Desire"
Keywords:
Purabi Basu, patriarchy, feminist writing
Abstract
Female writers have always been vocal against the tyranny of the overwhelming demon of patriarchy. Some of the writings of contemporary Bangladeshi female writers like Selina Hossain and Purabi Basu, exhibit a strong sense of resistance to the overpowering hegemony of paterfamilias. The aim of this paper is to focus on the tendency of de-centering the masculine logocentricism as shown in two of the short stories of Purabi Basu, Radha Will Not Cook Today and Salehas Desire. In these texts, we will find two resistant female protagonists, Radha and Saleha, who stand in their own way against societal expectations and break away with the roles the society has imposed on them. Their weapons are either silence or indifference or even violence. Moreover, their resistance may not lead to any positive conclusion. Yet, they are to be celebrated because of their power to oppose the oppressive or suppressive power.
Stamford Journal of English; Volume 6; Page 177-185
DOI:
http://dx.doi.org/10.3329/sje.v6i0.13912
Downloads
Download data is not yet available.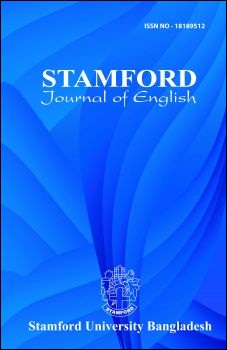 How to Cite
Kaiser, N. (2013). Resistance to Paterfamilias in Purabi Basu's two short stories: "Radha Will Not Cook Today" and "Saleha's Desire". Stamford Journal of English, 6, 177-185. https://doi.org/10.3329/sje.v6i0.13912