Performance Enhancement of Bulk Heterojunction Hybrid Solar Cell Using Macroporous Silicon
Abstract
This article focuses on the work which deals with the effect of introducing macroporous silicon as the cathode of hybrid solar cell. This work shows that the photocurrent of bulk-heterojunction hybrid solar cell can be enhanced by using macroporous silicon (macro-PSi) as the cathode that provided increased effective contact surface area at the interface of organic-inorganic material. The organic compound (3-hexylthiophene) (P3HT) and phenyl-C61-butyric acid methyl ester (PCBM) polymer blend at 1:1 ratio was used to fabricate the solar cell. It was found that the pore-diameter of the porous silicon plays an important role on short-circuit current of the fabricated hybrid solar cell. Huge enhancement of short-circuit current density (~ 73 times) was obtained when the average pore diameter of macro-PSi was comparable to the photogenerated carrier transport length of the photoactive polymer. The annealing of the whole structure further enhanced the overall performance of the fabricated hybrid solar cell.
Downloads
Download data is not yet available.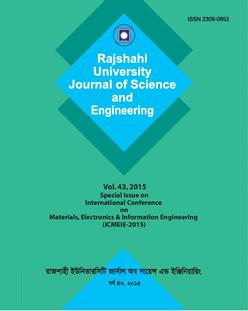 Downloads
How to Cite
Islam, A. S., Sobhan, M. A., & Ismail, A. B. M. (2015). Performance Enhancement of Bulk Heterojunction Hybrid Solar Cell Using Macroporous Silicon. Rajshahi University Journal of Science and Engineering, 43, 11–20. https://doi.org/10.3329/rujse.v43i0.26157
License
Copyright of published articles rests with the University of Rajshahi.