Effects of zinc and boron application on onion and their residual effects on Mungbean
Keywords:
Zinc, boron, onion, mungbean, old brahmaputra floodplain
Abstract
The effect of zinc (Zn) and boron (B) on the growth and yield of onion as well as their residual effect on mungbean were investigated in this study. The field experiment was conducted at Bangladesh Agricultural University Farm, Mymensingh. The soil was silt loam having 6.92 pH, 2.82% organic matter, 0.63 µg g-1 available Zn and 0.27 µg g-1 available B contents. There were nine treatments comprising three rates of Zn (0, 2 and 4 kg ha-1) and three rates of B (0, 1.5 and 3 kg ha-1) in all combinations. The experiment was laid out in a randomized complete block design with three replications. Zinc as ZnSO4.7H2O and boron as H3BO3 were applied to the first crop (onion cv. Faridpuri). Mungbean (cv. BINA Mung8) was grown on the same plots after harvesting of onion, with no further addition of Zn and B. For both crops, N, P, K and S fertilizers were added to the all plots as per recommendation (FRG-2012). Application of Zn and B significantly influenced the growth and yield parameters of crops viz. plant height, bulb diameter, bulb length and bulb yield for onion, and plant height, pods plant-1, pod length, 1000-seed weight and seed yield for mungbean. Addition of Zn at 4 kg ha-1 and B at 3 kg ha-1 compared to control (Zn0­B0) gave 52% yield benefits for onion and 99% yield benefits for mungbean. Zinc and B concentrations as well as their uptake by onion bulb were also positively influenced by the added Zn and B. The results suggest that application of Zn at 4 kg ha-1 coupled with B at 3 kg ha-1 along with NPKS is required to achieve higher yield of onion and mungbean in Old Brahmaputra Floodplain (AEZ 9).
Progressive Agriculture 26 (2): 90-96, 2015
Downloads
Download data is not yet available.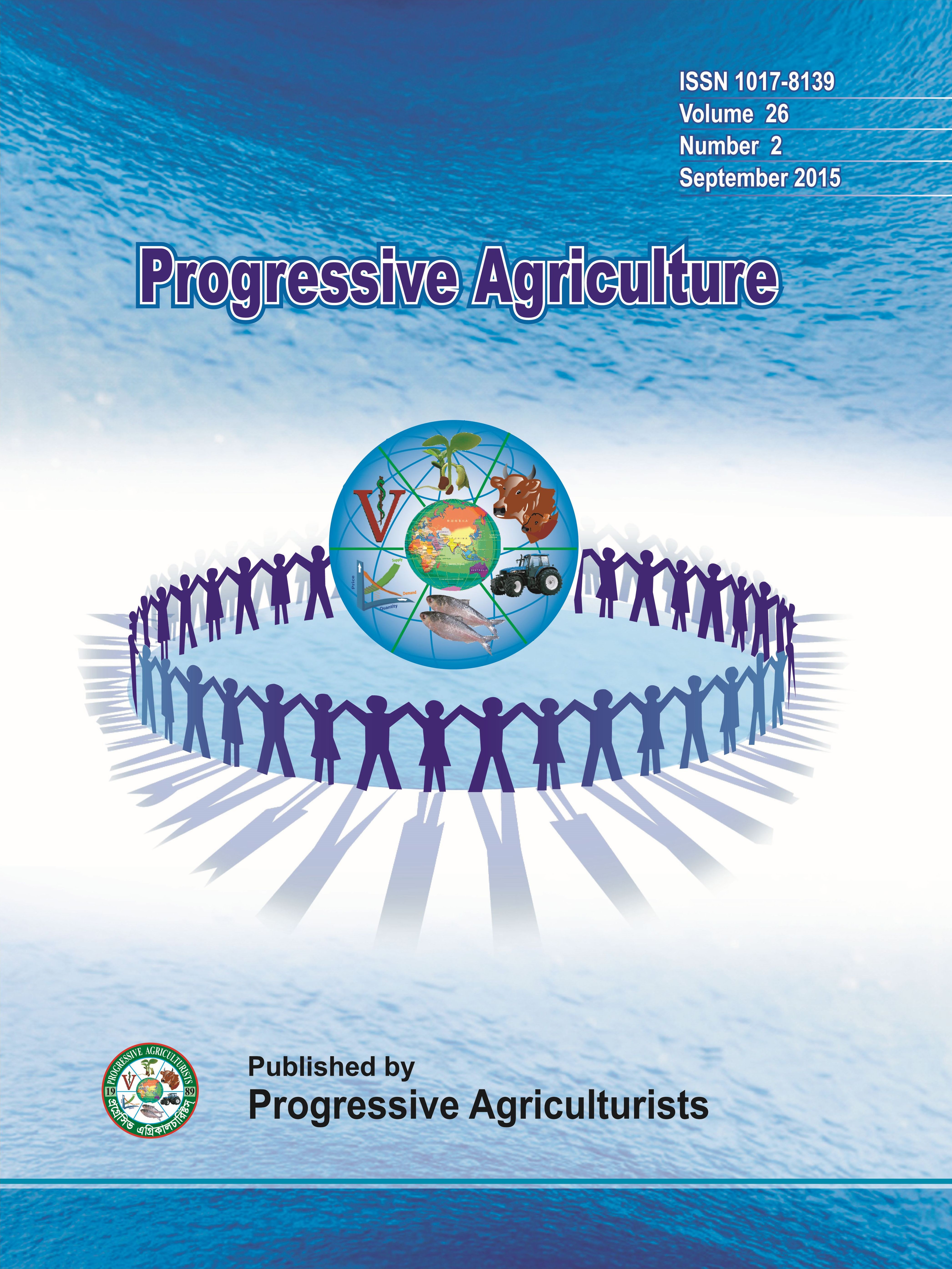 Downloads
How to Cite
Begum, R., Jahiruddin, M., Kader, M., Haque, M., & Hoque, A. (2015). Effects of zinc and boron application on onion and their residual effects on Mungbean. Progressive Agriculture, 26(2), 90–96. https://doi.org/10.3329/pa.v26i2.25961