Effect of Ethyl Methane Sulfonate (Ems) on Incubation Period, Pupal Period and Reproductive Potential of Ladybird Beetle, Epilachna Vigintioctopunctata Fab
AE Ekram

Department of Genetic Engineering and Biotechnology, University of Rajshahi, Rajshahi-6205

I Sarker

Department of Genetic Engineering and Biotechnology, University of Rajshahi, Rajshahi-6205

MPE Shaekh

Department of Genetic Engineering and Biotechnology, University of Rajshahi, Rajshahi-6205

R Khatun

Department of Genetic Engineering and Biotechnology, University of Rajshahi, Rajshahi-6205

KMF Hoque

Department of Genetic Engineering and Biotechnology, University of Rajshahi, Rajshahi-6205
Keywords:
EMS, incubation, pupal period, reproductive potential, ladybird beetle
Downloads
Download data is not yet available.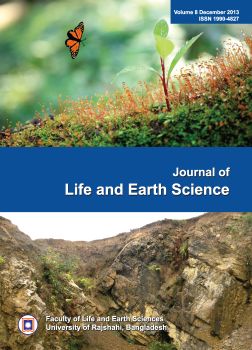 How to Cite
Ekram, A., Sarker, I., Shaekh, M., Khatun, R., & Hoque, K. (2014). Effect of Ethyl Methane Sulfonate (Ems) on Incubation Period, Pupal Period and Reproductive Potential of Ladybird Beetle, Epilachna Vigintioctopunctata Fab. Journal of Life and Earth Science, 8, 119-122. https://doi.org/10.3329/jles.v8i0.20156
Section
Short Communications
It is a condition of publication in the Journal that author(s) assigns copyright to the Faculty of Life and Earth Sciences, University of Rajshahi, whose permission must be obtained to reproduce there from. This would ensure efficient handling of reproduction of articles for third party requests and wide dissemination at large.