Occurrence of Penta-Aromatic Hydrocarbons in Jaintia and Barail Group Mudstones, Northeastern Bengal Basin, Bangladesh
HM Zakir Hossain

Department of Petroleum and Mining Engineering, Jessore University of Science and Technology, Jessore-7408

Md Sultan-Ul-Islam

Department of Geology and Mining, University of Rajshahi, Rajshahi-6205

Quazi Hasna Hossain

Department of Geoscience, Shimane University, 1060 Nishikawatsu, Matsue 690-8504
Keywords:
Mudstone, penta-aromatic hydrocarbons, GC-MS, Bengal Basin, Bangladesh
Abstract
In the present experiment, concentration, distribution and sources of penta-aromatic hydrocarbons in seven drill core and outcrop samples from Jaintia and Barail Group mudstones, northeastern Bengal Basin, Bangladesh have been studied. Gas chromatography-mass spectrometry (GC-MS) was used to obtain composition details about the sedimentary organic matter (OM). Mudstone samples were found to contain relatively high penta-aromatic hydrocarbon abundances in the lower Jaintia Group than in the overlying Barail Group. High concentration of perylene suggests terrigenous sources and significantly higher content of total organic carbon in the samples. A biogenic origin of perylene therefore indicates oxygen deficient environmental condition for deposition of OM. Perylene over pentacyclic aromatic hydrocarbon isomers regulating in-situ diagenetic origin.
DOI: http://dx.doi.org/10.3329/jles.v8i0.20154
J. Life Earth Sci., Vol. 8: 105-112, 2013
Downloads
Download data is not yet available.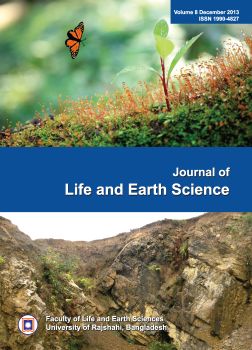 How to Cite
Hossain, H., Sultan-Ul-Islam, M., & Hossain, Q. (2014). Occurrence of Penta-Aromatic Hydrocarbons in Jaintia and Barail Group Mudstones, Northeastern Bengal Basin, Bangladesh. Journal of Life and Earth Science, 8, 105-112. https://doi.org/10.3329/jles.v8i0.20154
It is a condition of publication in the Journal that author(s) assigns copyright to the Faculty of Life and Earth Sciences, University of Rajshahi, whose permission must be obtained to reproduce there from. This would ensure efficient handling of reproduction of articles for third party requests and wide dissemination at large.