Climate Change and Land Use Change in the Eastern Coastal Belt of Bangladesh, Elucidated by Analyzing Rice Production Area in the Past and Future
Md Shafiul Alam

Assistant Professor, Department of Geography and Environmental Studies, University of Rajshahi, Rajshahi-6205
Keywords:
Land use change, Climate change, Sea Level Rise, Salinity intrusion, Shrimp culture
Abstract
Climate change is an important issue now-a-days. Global warming i.e. climate change causes sea level rise and that affect the coastal agricultural areas of Bangladesh. The net-cropped area of eastern coastal zone in Bangladesh has been decreasing over the years due to various purposes and the most common one is the land inundation and salinity intrusion by tidal water. The main aims of the study is to assess the change in climatic conditions particularly temperature, rainfall and agricultural land use change in the past and future. Past rainfall, temperature and salinity data have been used to assess the climatic and salinity conditions of the area under investigation. Normalized difference vegetation Index (NDVI) and False Color Composite (FCC) of digital Land sat images have been used to identify land use pattern and Boro rice coverage area. During last 31 years (1978 -2009) 31% rice production land has converted to shrimp culture and salt farming. Salinity intrusion is one of the major causes of agricultural land use change. Salinity level has increased dramatically in dry season during last decade due to increase of temperature, low rainfall pattern, high evaporation rate and low water discharge to the river systems. Future landuse has been projected for 2039 by Markov Model. Result shows that rice production area will decrease rapidly due to salinity intrusion as well as climate change which may threat for food security of Bangladesh. Hereafter, the Government of Bangladesh, national and international institutions will have to work together for minimizing the effect of climate change for food security.
DOI: http://dx.doi.org/10.3329/jles.v8i0.20151
J. Life Earth Sci., Vol. 8: 83-91, 2013
Downloads
Download data is not yet available.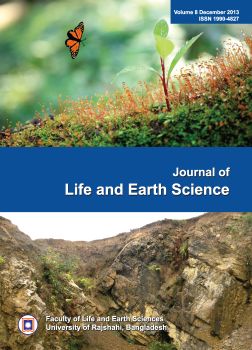 How to Cite
Alam, M. S. (2014). Climate Change and Land Use Change in the Eastern Coastal Belt of Bangladesh, Elucidated by Analyzing Rice Production Area in the Past and Future. Journal of Life and Earth Science, 8, 83-92. https://doi.org/10.3329/jles.v8i0.20151
It is a condition of publication in the Journal that author(s) assigns copyright to the Faculty of Life and Earth Sciences, University of Rajshahi, whose permission must be obtained to reproduce there from. This would ensure efficient handling of reproduction of articles for third party requests and wide dissemination at large.