Correlation Analysis of Flag Leaf with Yield in Several Rice Cultivars
Keywords:
Chlorophyll, flag leaf, panicle, pollen grain, yield
Abstract
The uppermost leaf below the panicle is the flag leaf that provides the most important source of photosynthetic energy during reproduction and grain filling, thereby has great impact in panicle development and grain yield in rice. In the present investigation in order to explore the relationship between grain yield and flag leaf parameters, yield composition, length and width of the flag leaf, and panicle length were measured in some rice cultivars. Statistical analysis indicated that flag leaf length was positively correlated with panicle length for the studied cultivars demonstrating higher grain yield. Chlorophyll measurement indicated that flag leaf contained more chlorophyll than penultimate leaf. Yield of all the cultivars upon excision of flag leaf was also compared. Removal of flag leaf led to a decline in the seed-setting rate which eventually reduced the grain yield. Besides this, variable pollen viability was also noticed in the different cultivars.
DOI: http://dx.doi.org/10.3329/jles.v8i0.20139
J. Life Earth Sci., Vol. 8: 49-54, 2013
Downloads
Download data is not yet available.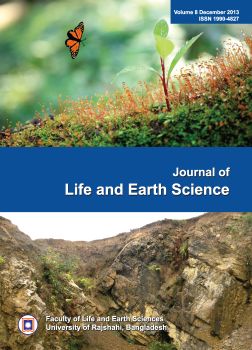 Downloads
How to Cite
Rahman, M. A., Haque, M., Sikdar, B., Islam, M. A., & Matin, M. N. (2014). Correlation Analysis of Flag Leaf with Yield in Several Rice Cultivars. Journal of Life and Earth Science, 8, 49–54. https://doi.org/10.3329/jles.v8i0.20139
License
It is a condition of publication in the Journal that author(s) assigns copyright to the Faculty of Life and Earth Sciences, University of Rajshahi, whose permission must be obtained to reproduce there from. This would ensure efficient handling of reproduction of articles for third party requests and wide dissemination at large.