Agricultural Land Conversion in the Sub-Urban Area: A Case Study of Rajshahi Metropolitan City
Keywords:
Land use, agricultural land, land conversion, sub-urban area
Abstract
Bangladesh is a land scarce country where per capita cultivated land is only 12.5 decimals. It is claimed that every year about one percent of farm land in the country is being converted to non-agricultural uses. The study is based mainly on field survey covering 2 villages (Narikel Baria and Baze Silinda) from 10 sub-urban villages around Rajshahi City Corporation under Paba Upazila of Rajshahi district. The study area was selected purposively and the respondents of this research work were selected randomly. The major focus was on to mention the general land use pattern of the area, estimates the agricultural land conversion besides determining the causes and consequences affecting such conversion. Both Narikel Baria and Baze Silinda villages were selected as study area because of its relatively higher growth in infrastructure. In order to fulfill the goal of this study, primary and secondary data were collected from various sources and to analyze and process of collected data the SPSS, Excel and Arc GIS software were used. Different types of descriptive statistics were applied for representing the analyzed data. It is observed that the land conversion form agriculture to non-agriculture allied in recent time is more than the previous time due to gradually increasing land demand in housing and relevant services which invites adverse impact on agricultural land as well as its dependent population. So, it is necessary to take integrated land-use planning to offer better options for the fulfillment of land demand both of housing and agricultural sectors.
DOI: http://dx.doi.org/10.3329/jles.v8i0.20136
J. Life Earth Sci., Vol. 8: 21-30, 2013
Downloads
Download data is not yet available.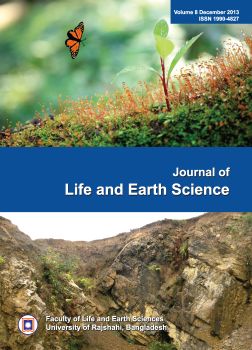 Downloads
How to Cite
Halim, M. A., Rahman, M. M., & Hassan, M. Z. (2014). Agricultural Land Conversion in the Sub-Urban Area: A Case Study of Rajshahi Metropolitan City. Journal of Life and Earth Science, 8, 21–30. https://doi.org/10.3329/jles.v8i0.20136
License
It is a condition of publication in the Journal that author(s) assigns copyright to the Faculty of Life and Earth Sciences, University of Rajshahi, whose permission must be obtained to reproduce there from. This would ensure efficient handling of reproduction of articles for third party requests and wide dissemination at large.