Management of recurrent bleeding from facial arteriovenous malformations in end-stage liver disease
Keywords:
arterial embolisation
Abstract
We report the management by arterial embolisation of recurrent significant bleeding from a facial arteriovenous malformation (AVM) in a patient with end-stage liver disease. Given their propensity to re-bleed, AVMs are often refractory to other forms of treatment, including surgery. Evidence from the management of facial AVMs and our case suggests that embolisation may offer a better initial management strategy in patients with end-stage liver disease related facial AVMs.

International Journal of Hepatology Vol.1(4) 2010 pp.53-54
Downloads
Download data is not yet available.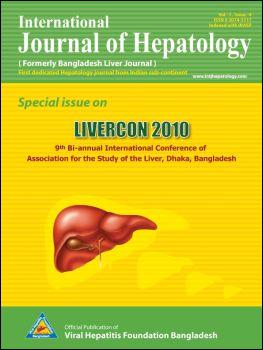 Downloads
How to Cite
Hussain, S. S., Cheent, K. S., Khan, S. A., Jackson, J. E., Crossey, M. M., Thomas, H. C., & Robinson, S. D. T. (2010). Management of recurrent bleeding from facial arteriovenous malformations in end-stage liver disease. International Journal of Hepatology, 1(4), 53–54. Retrieved from https://www.banglajol.info/index.php/IJH/article/view/6577