Did the Buddha Speak P&#257;li? An Investigation of The <i>Buddha-Vacana</i> and Origins of P&#257;li
Keywords:
Buddhism, Pali language, Pali literatures
Abstract
Traditionally South and Southeast Buddhism, which we now call Theravada Buddhism, claims that the language of the Buddha is "Pali" and hence the language of their sacred texts (Tipitaka=three canons). In this essay, I investigate the notion of the Pali language by reconstructing existing Pali literatures and contemporary works on Pali studies. Among other issues, this investigation explores the following issues: the language (vacana) of the Buddha, the multilingualism and geopolitics, the home of Pali, and the origination of Pali.

Key words: Buddhism; Pali language; Pali literatures
DOI: 10.3329/dujl.v2i4.6899
Dhaka University Journal of Linguistics Vol.2(4) August 2009 pp.43-57
Downloads
Download data is not yet available.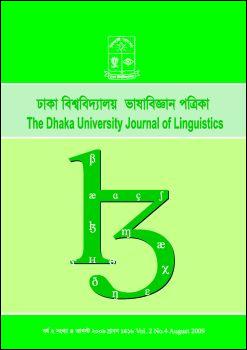 Downloads
How to Cite
Chowdhury, C. (2011). Did the Buddha Speak P&#257;li? An Investigation of The <i>Buddha-Vacana</i> and Origins of P&#257;li. Dhaka University Journal of Linguistics, 2(4), 43–57. https://doi.org/10.3329/dujl.v2i4.6899