A contrastive analysis of English and Bangla phonemics
Keywords:
ontrastive, Bangla, English, phonemics
Abstract
Contrastive phonemics is the field of study in which different phonemic systems are laid side by side to find out similarities and dissimilarities between the phonemes of the languages concerned. Every language has its own phonemic system, which holds unique as well as common features. A language shares some phonemes with other languages, but no two languages have the same phonemic inventory. This article makes a contrastive analysis of the phonemic systems of English and Bangla. The aspects of similarities as well as dissimilarities between the two have been explored in detail. It brings into focus the inventory of phonemes of the two languages along with relevant phonetic and phonological characteristics. The vowel and consonant phonemes of the two languages have been compared with sufficient examples, making it clear where and how they are identical and different.

Key words: contrastive; Bangla; English; phonemics
DOI: 10.3329/dujl.v2i4.6898
Dhaka University Journal of Linguistics Vol.2(4) August 2009 pp.19-42
Downloads
Download data is not yet available.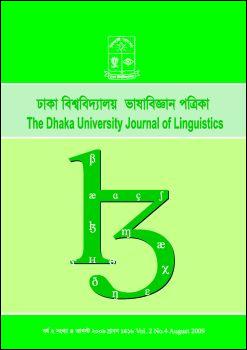 Downloads
How to Cite
Barman, B. (2011). A contrastive analysis of English and Bangla phonemics. Dhaka University Journal of Linguistics, 2(4), 19–42. https://doi.org/10.3329/dujl.v2i4.6898