Policy Brief: 20th Asian Bioethics Conference at Dhaka, Bangladesh
Abstract
Asian Bioethics Conference (ABC20) was held on 22-25 Nov. 2019 at DGHS (Directorate General of Health Services) auditorium, Mohakhali and NEC (National Election Commission) Auditorium, Agargoan, Dhaka. Conference was organized by Bangladesh Bioethics Society (BBS) in cooperation of DGHS, Ministry of Health & Family Welfare; Social Science Research Council Bangladesh, Ministry of Planning; Bangladesh Medical Research Council, Mohakhali Dhaka; Asian Bioethics Association (ABA) and Eubios Ethics Institute, Thailand, New Zealand's and Japan.
Mr MA Mannan MP, Honorable Planning Minister, Government of the People's Republic of Bangladesh was the Chief Guest.
Dr. Md. Murad Hassan MP, Honorable State Minister, Ministry of Information, Government of the People's Republic of Bangladesh was present as Special Guest.
Md. Nurul Amin, Secretary, Planning Division, Ministry of Planning and Dr Iqbal Kabir, Director, Planning, Monitoring, & Research and Coordinator, DGHS were also present as Special Guests.
Acknowledgement: We acknowledge our gratitude to Directorate General of Health Services (DGHS), Ministry of Healthy and Family Heath Welfare, Government of People Republic of Bangladesh to publish the news of 20 Asian Bioethics Conference  in the Policy Brief.  We also express our thanks to DGHS for their co-operation and collaboration during Conference.
Downloads
Download data is not yet available.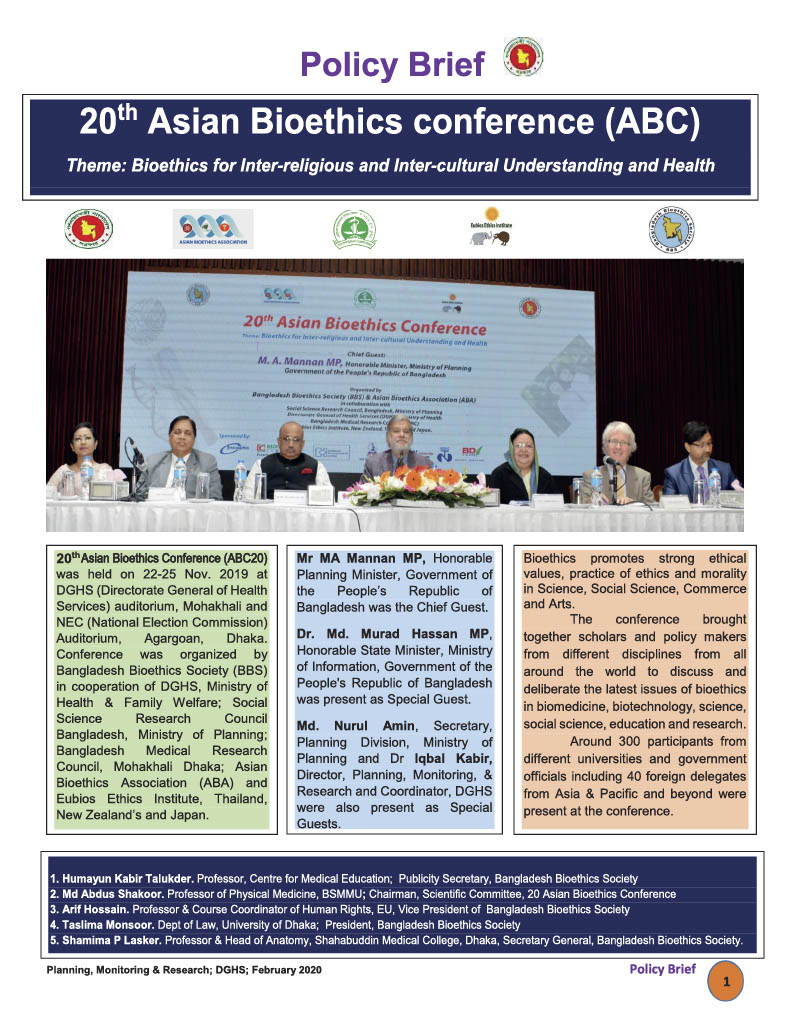 Downloads
How to Cite
Talukder, H. K., Shakoor, M. A., Hossain, A., Monsoor, T., & Lasker, PhD, S. P. (2020). Policy Brief: 20th Asian Bioethics Conference at Dhaka, Bangladesh. Bangladesh Journal of Bioethics, 11(1), 52. https://doi.org/10.3329/bioethics.v11i1.49194
License
(c) Bangladesh Journal of Bioethics.  

Articles in the Bangladesh Journal of Bioethics are Open Access articles published under the Creative Commons CC BY-NC-ND License Creative Commons Attribution-NonCommercial-NoDerivatives 4.0 International License. This license permits use, distribution and reproduction in any medium, provided the original work is properly cited, is not changed in any way, and is not used for commercial purposes.