Farmers' Perception about 'One House One Farm' Project and Its Impact on Enterprise Profitability in Selected Areas of Mymensingh District
Keywords:
'One house one farm' perception, profitability, enterprise
Abstract
The study was conducted to identify farmers perception about one house one farm project and its impact on enterprise profitability in Mymensingh district. A total of 90 farmers were selected randomly as the sample of the study for collecting necessary primary data. Forty five farmers under this project and another forty five non-project farmers were selected. Structured questionnaire was used for data collection. Descriptive statistics (i.e., mean, percentages, ratios, etc.), perception index, profitability analysis were employed to attain the objectives. The overall perception of project farmers about one house one farm project was moderate. On the contrary, the perception was slightly moderate for the non-project farmers. The benefit cost ratio was higher for every production enterprise for project farmers than non-project farmers except for large animal rearing. The study identified some problems faced by the farmers in adopting the project as well as who were not adopting this project and probable solutions relating to those problems were also documented.

The Agriculturists 2016; 14(1) 43-53
Downloads
Download data is not yet available.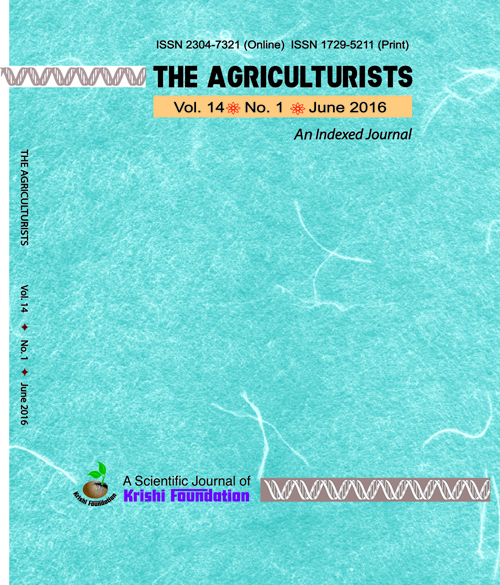 Downloads
How to Cite
Jannat, A., & Uddin, M. T. (2016). Farmers' Perception about 'One House One Farm' Project and Its Impact on Enterprise Profitability in Selected Areas of Mymensingh District. The Agriculturists, 14(1), 43–53. https://doi.org/10.3329/agric.v14i1.29099