The Socio-economic Status of Horse Owners in Rural Areas of Bangladesh
M P Alam

Department of Animal Breeding and Genetics, Faculty of Animal Husbandry, Bangladesh Agricultural University, Mymensingh-2202

M S A Bhuiyan

Department of Animal Breeding and Genetics, Faculty of Animal Husbandry, Bangladesh Agricultural University, Mymensingh-2202

A K F H Bhuiyan

Department of Animal Breeding and Genetics, Faculty of Animal Husbandry, Bangladesh Agricultural University, Mymensingh-2202
Keywords:
Indigenous horse keepers, socio-economic status
Abstract
A study was conducted for a period of 60 days to understand the socio-economic status of the horse keepers and explore the opportunity of Indigenous horse rearing in 22 villages of Mymensingh, Tangail, Sherpur and Jamalpur districts in Bangladesh. A total of 200 horse keeping households were surveyed through one-to-one interview. A pre-tested questionnaire was used to collect information. Farmer exercised traditional knowledge on horse rearing that was used mainly for pulling cart, transportation, land tillage and sports purposes for their livelihood. Most of the horse keepers were experienced in horse rearing for 0.2 to 40 years. Among the horse keepers 54%  were landless followed by marginal (22.5%), small (12.5%),  medium (8%) and large (3%).Their main occupation was horse pulling cart (88%) and the income from horse pulling cart was different from season to season which ranged from TK 3,000 to TK 20,000  per month. In case of secondary occupation, 81.5% farmers were involved in agriculture sector and 9% farmers involved in horse pulling cart. The horse keepers were mostly illiterate (84.7%),   where the highest education level was S.S.C (1%).  This study revealed valuable information which would help in designing proper policy and plan for the improvement of horse genetic resources and their keepers in Bangladesh.
The Agriculturists
2015; 13(1) 46-52
Downloads
Download data is not yet available.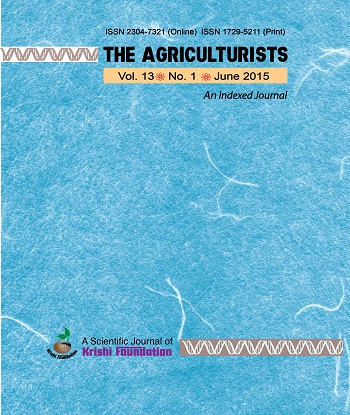 How to Cite
Alam, M. P., Bhuiyan, M. S. A., & Bhuiyan, A. K. F. H. (2016). The Socio-economic Status of Horse Owners in Rural Areas of Bangladesh. The Agriculturists, 13(1), 46-52. https://doi.org/10.3329/agric.v13i1.26547