Economic Empowerment of Haor Women through Duck Farming in Bangladesh
Romaza Khanum

Department of Agricultural Economics and Policy, Sylhet Agricultural University, Sylhet

Muhammad Salim Al Mahadi

Planning, Development and Works, Sylhet Agricultural University, Sylhet
Keywords:
Women participation, Hakaluki haor, economic empowerment, socioeconomic condition, improved livelihoods
Abstract
A study was conducted to investigate the extent of women participation in duck rearing farm and to address womens economic empowerment in Hakaluki haor area of Maulvibazar district in Bangladesh. Primary data from 80 women duck raisers were collected through face to face interview. In this case haor women played an important role in the duck rearing activities which were carried out to explore the meaningful interpretation of womens present status. The result of the study revealed that duck rearing farming has exerted greater impact on improving socioeconomic condition and economic empowerment of haor women. The successful duck farming provides the women with economic independence and improved livelihood leading to their empowerment.
The Agriculturists
2015; 13(1) 18-25
Downloads
Download data is not yet available.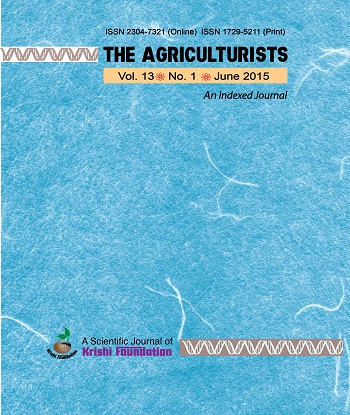 How to Cite
Khanum, R., & Salim Al Mahadi, M. (2016). Economic Empowerment of Haor Women through Duck Farming in Bangladesh. The Agriculturists, 13(1), 18-25. https://doi.org/10.3329/agric.v13i1.26543